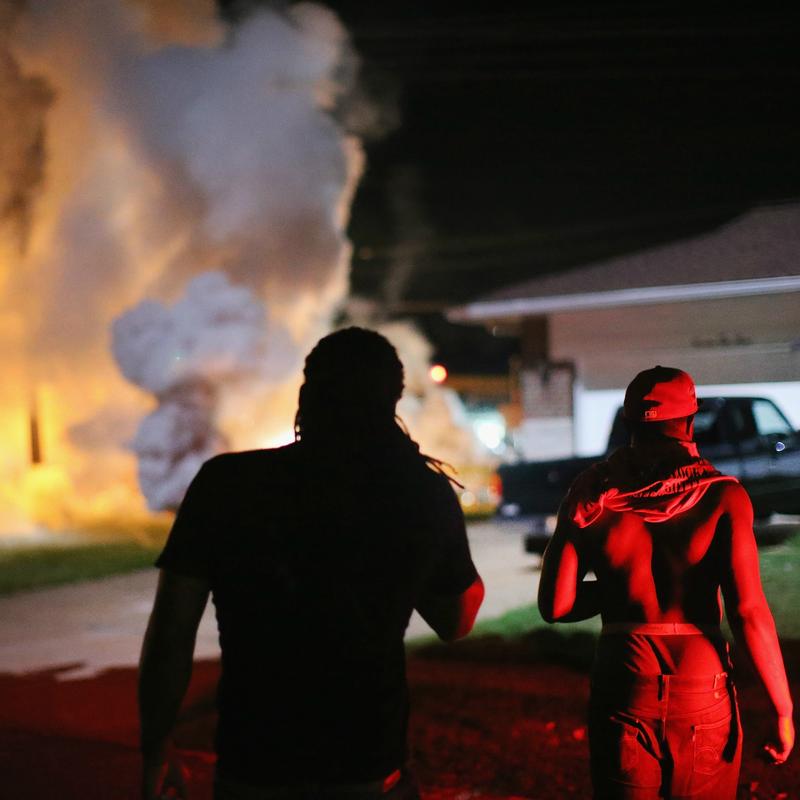 Summary
Since the shooting death of Michael Brown by a police officer on Saturday, all eyes have been on the continuous protests being held in Ferguson, Missouri and broadcast over social media. Brooke talks with Trymaine Lee from Ferguson where he has been reporting this week, about what he's seen there. 
Transcript
BOB GARFIELD: From WNYC in New York, this is On the Media. I'm Bob Garfield.
BROOKE GLADSTONE: And I'm Brooke Gladstone. After a week of escalating violence, the scene in Ferguson, Missouri on Thursday night was one of relative calm, as protestors marched with police officers down the streets of the St. Louis suburb. Here's Capt. Ronald Johnson of the Missouri Highway Patrol, now Ferguson Police Commander.
CAPT. RONALD JOHNSON: And if that was my son or that was my friend, how would I feel or what my emotions would be, and whatever my voice was, I'd want to have the right to say what that was here. And that's what we're gonna do here today and every day forward.
BROOKE GLADSTONE: The tone stood in stark contrast to the days and nights of confrontation between demonstrators, mostly peaceful but angry, and police, often in riot gear, often seen holding military rifles on armored vehicles or firing off teargas. The cause of the conflict was the shooting death of an unarmed black teenager, Michael Brown, by a police officer on August 9th. Since then, Ferguson has been headline news, documented minute by minute via tweets, vines and live streams.
[CLIP]:
POLICE OFFICER: You may no longer be in the area. It is no longer a peaceful protest.
[CROWD CHANTS UP & UNDER/GUNFIRE]
MALE CORRESOPNDENT: They are firing rubber bullets and smoke grenades…
[VOICES/COUGHING]
BROOKE GLADSTONE: Trymaine Lee, national reporter for MSNBC, has been reporting from Ferguson since Monday, August 11th. We spoke to him earlier this week and asked him about the view from what's being called "Fergustan."
TRYMAINE LEE: Wednesday night was the worst night so far. Police officers hurled canisters of teargas into the crowd. They also launched flash grenades, bang grenades. It was the kind of sight that I understand why people could look at this from around the world and around the country and say it looks like a war zone. And that's how it's felt - people running and screaming, their eyes burning, some people vomiting. It's quite a sight, especially in a small city in the Midwest.
BROOKE GLADSTONE: And, in fact, the Washington Post's Mark Berman wrote that the notion of something playing out on social media is a tiresome platitude at this point. But what's playing out in Ferguson, he said, seems different in that it evokes situations that have happened in other parts of the world. And, actually, what we're seeing online doesn't seem to smack of the live reporting during the Arab Spring, right? Citizens posting live streams, people who, by their tweeting on the ground, are becoming familiar names.
TRYMAINE LEE: This case, in at least personal experience, has been an experience like no other. Everything is going viral, because we haven't seen this level of – I'll call it rebellion –in a long time. Some young people say they've been waiting for a moment like this, where they can express themselves, whether they do it peacefully or violently - the death of this young man in this community by a police department that they say has been harassing them for years, they finally now are saying, "Enough is enough." And the consequence is we have burned out stores; we have a militarized police department that have shown up en masse and actually escalated the tension in this community, escalated the violence.
But again, it's all playing out before our eyes, all playing out on Twitter and social media. And everyone seems to be participating and watching.
BROOKE GLADSTONE: Yeah, I mean, there's an alderman, who I never would have had occasion to know about, named Antonio French –
TRYMAINE LEE: Mm-hmm.
BROOKE GLADSTONE: - who seems to be everywhere all the time, uninflectedly reporting the events as they happen, and then you have a reporter like Wesley Lowery of the Washington Post who's getting arrested, and his last remark is, "Tweet this."
TRYMAINE LEE: [LAUGHS] Wesley Lowery is a colleague. He's a great young journalist. And so, we were at one of the press conferences on Monday and he's firing away on his cell phone, tweeting about it. And the people have a hunger, 'cause that's where they're getting their information.
But going back to that alderman, he's been here. He's been tweeting and covering the story in a way that the local news media hadn't even been covering it. And so, as he's getting hauled away to jail, they're tweeting about it; as Wesley is getting hauled away to jail, and his last words saying, you know, tweet about it, tweet it out, 'cause it's a different world, as we all know, and especially both in the media or have been following the media.
And years ago there was the, the Jena Six case in Jena, Louisiana, where a group of young black teenagers, high school students, were charged with attempting murder for beating up one of their young white peers. People from around the country amassed, one of the first times that this young generation mobilized. But we still weren't using Twitter or Facebook that much. Then you jump years later to 2012, to the Trayvon Martin case, when it was all over social media and expanded and grew. People were using online petitions, people were tweeting and Facebooking. But the images emerging from here in Ferguson, Missouri are unlike anything we've ever seen because people in the Trayvon Martin case were gathering by the thousands in an open field, pretty much contained, but here, as the police team beating back a force of mostly peaceful protesters and teargas canisters are flying in and you're seeing it in real time, I was on one side street and I watched as a man was going to open his front door with his keys, and walking across the front lawn there was a police officer with his rifle trained on him, following him to his front door. All these images are now being blasted across the country.
BROOKE GLADSTONE: It's interesting how social media is speaking back to mainstream media. The day after the shooting NBC News tweeted a picture of Michael Brown expressionless, wearing a basketball jersey, making what some commentators called a gang sign. And then came the hashtag #IfTheyGunnedMeDown. People of color have been tweeting pairs of photos of themselves with the question, "Which photo would they use?" They have a picture of themselves in a hoodie and then say in their Marine dress uniform. Are the mainstream media getting the message that they need to be more judicious in what photos they choose?
TRYMAINE LEE: I think how we're choosing our photos, images we're putting out there, is still a direct reflection of the diversity in the newsroom, right?
BROOKE GLADSTONE: Mm-hmm. [AFFIRMATIVE]
TRYMAINE LEE: I've been a journalist for ten years and almost every newsroom I've been in, you look around and I'm the only person of color. And that doesn't necessarily give me some sort of wisdom into –
BROOKE GLADSTONE: Trymaine, it kinda does.
TRYMAINE LEE: I, I guess it does. I mean, that's – that's what diversity is about, right? But I think when we look around and we see these newsrooms that are still so homogenous, and so when they see this young man, hey, he looks fine to me, this is how they look. It's almost like when we talk about violence that has been normalized in the media and normalized by law enforcement, it's supposed to happen in these places, and so we do everything from that concept. And I think in the media sometimes in these homogenous newsrooms, we look at them and say, I don't see the problem. This is what they look like. Look at what part of town they came from.
BROOKE GLADSTONE: Mm-hmm. [AFFIRMATIVE] In a piece for Medium, Cord Jefferson wrote about his frustration and exhaustion with covering what he called the racism beat. "I used to think that maybe I'd let my anger serve as an engine," he wrote, "but I've since discovered that my anger over each new racist incident is now rivaled and augmented by the anger I feel when I am asked to explain, once more, why black people shouldn't be brutalized, insulted and killed." He's pretty much walked away from this. And I wonder, you've been on this beat. You were one of the first on the Trayvon Martin so-called "Stand Your Ground" shooting in Florida. Is it getting to you?
TRYMAINE LEE: Does it weigh on you? Certainly. But is there some responsibility to do so as a journalist and also as a black journalist? [LAUGHS] Most definitely. Wednesday night, I get back to the hotel after choking on teargas and witnessing people scurrying for what some of them believe is their lives, and I come into the bar, they're drinking, everything seemed so good but it's not good. And you look around and everyone in that room is white, and there is a whole community here that has been suffering for a long time. And you know this is replicated. It's Ferguson here, it's Tampa, Florida, where Trayvon Martin was killed. It's East New York in Brooklyn. It's Chicago. We live in kind of completely different worlds.
And so, as a black journalist who is tasked with trying to go out and tell the stories about, again, how we live and how we die and how Americans suffer and how we overcome and how our institutions have failed us, it does weigh on you. But if not me, who else? You know, if it's not [LAUGHS] Wesley Lowery, who else? It's not Yamiche Alcindor or all of the, the black journalists who came before us, who had to do their jobs under even harsher conditions. I'm not sure who would. But, again, we're here [LAUGHS] as journalists. This is what we're paid to do. Some of it sometimes is mission-driven because you can see a truth that some others can't see, and as I'm sitting out here talking, you know, some of these people will trust me because they'll see a brother in me, and I can see the same in them and we can talk openly and honestly, and I can get the truth. That's important. [LAUGHS] So I don't take it for granted.
BROOKE GLADSTONE: We had you on the show in March of 2012 to talk about Trayvon Martin, and I asked you what you wanted out of that coverage. And here's a clip of your answer.
[CLIP]:
TRYMAINE LEE: I would like to see this, the beginning of a conversation. I'm certainly interested in seeing where this goes. I wonder if, if this ultimately is this watershed moment that we all believe it will be, and how we'll all be changed, 'cause I think we're all gonna be a little different after this.
[END CLIP]
BROOKE GLADSTONE: So are we are a little least a little different?
TRYMAINE LEE: I think we are a little different. Since the killing of Trayvon Martin, you've had the killing of Jordan Davis in Jacksonville, Florida by someone who began an altercation with this young man over his loud music and fired into his car. And you've had the Renisha McBride case in Detroit, where a young woman showed up at someone's doorstep and they fired a shotgun through a screen door and tore off half of her face. Jonathan Ferrell in Charlotte, North Carolina, he gets in a car accident, he shows up at someone's door looking for help. She calls the police. They end up gunning this young man down, again, unarmed. Eric Garner, more recently in New York City, selling loose cigarettes, died in a police chokehold. In each one of these cases there was a mass of media around it. These stories went viral. We can go case by case and city by city, and people know their names. In the past, I don't think we would have cared enough. I don't think we would have had the, the capital to do this, on top of President Obama, in his watershed moment, in the Trayvon Martin case where he finally opened up and talked about race and how we value or don't value black men's lives in America, that all matters. And I think the Trayvon Martin case did that.
The saddest part is news organizations hop on top of this, peel away the layer and analyze it from every single angle but I'm not sure where it makes a difference. With Stop and Frisk, that's kind of in its last vestiges but now we have the broken window policing, [LAUGHS] where we're seeing the same results, black and brown men ground down into powder and pushed into the system, Stand Your Ground laws. People dug in harder in Florida to maintain those laws that seem to allow people to form their vendetta mentality.
But we are different. The world is more receptive to these ideas of how our system created this framework around particularly black and brown men - there are lethal consequences. And we're all kind of indicted in it because we all play a role, because we all normalized it. We recognize it. But now what? [LAUGHS] Hopefully, in a couple of years the conversation we'll be having will be much different. You know, I won't put any money on it but let's hope.
[MUSIC UP & UNDER]
BROOKE GLADSTONE: Trymaine, thank you so much.
TRYMAINE LEE: Thank you very much for having me, Brooke.
BROOKE GLADSTONE: Trymaine Lee is national reporter for MSNBC, now in Ferguson, Missouri.