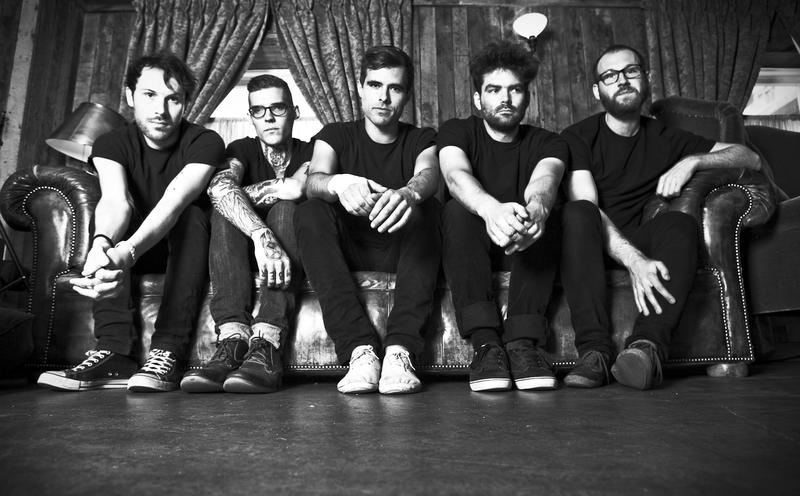 It's no coincidence that there's sense of spirituality at the heart of Reuben And The Dark's music. Reuben Bullock, the Calgary band's frontman, is the son of a preacher and spent his childhood traveling from town to town across North America, never staying very long. And while Bullock eventually rebelled against religion and the rootless lifestyle he grew up immersed in, it's impossible to deny its lingering influence in the gospel-infused folk songs and lyrics he writes. 
Case in point: The short but stirring "Black Water," a meditative new track from Reuben And The Dark's forthcoming full-length debut, Funeral Sky. Today, the band has shared its new music video for the track:
In the song, Bullock sings of cleansing himself from his past, and his desire for a fresh beginning. "I saw my face in the mirror / Oh I know I've changed, though I look much the same," he insists amid an ambient swell of organ and haunting drum beat.
The video -- produced and directed by Kaelen Ohm -- furthers establishes the song's restless, world-weary mood, pairing Bullock's words with lingering shots of aimless wandering over railroad tracks and dimly-lit, seedy motel rooms. While we don't know the character's back-story in the video, there's an implied sense of guilt and mortality. But ultimately, the video culminates with a cathartic notion of escapism and reinvention as he runs off the train's path and watches it pass by. It's a captivating image well-suited for an emotionally searching song.
Here's what Reuben Bullock had to say about the song:
"Black Water" was the last song written for Funeral Sky. It was one of those tunes that wrote itself in a couple minutes. We recorded it straight to a 4-track tape machine. I like the fact it was written and recorded with such urgency and anxiety, but ended up feeling quite the opposite. Calm and patient. It's very simple, a couple lyrics and a few chords, but ended up being one of favorites on the record. The video came together in a similar way. But from the mind of Kaelen Ohm.
Reuban And The Dark's debut album, Funeral Sky, is out May 27 via Arts & Crafts. Pre-order it here. The band will be performing in New York at Mercury Lounge on June 12.