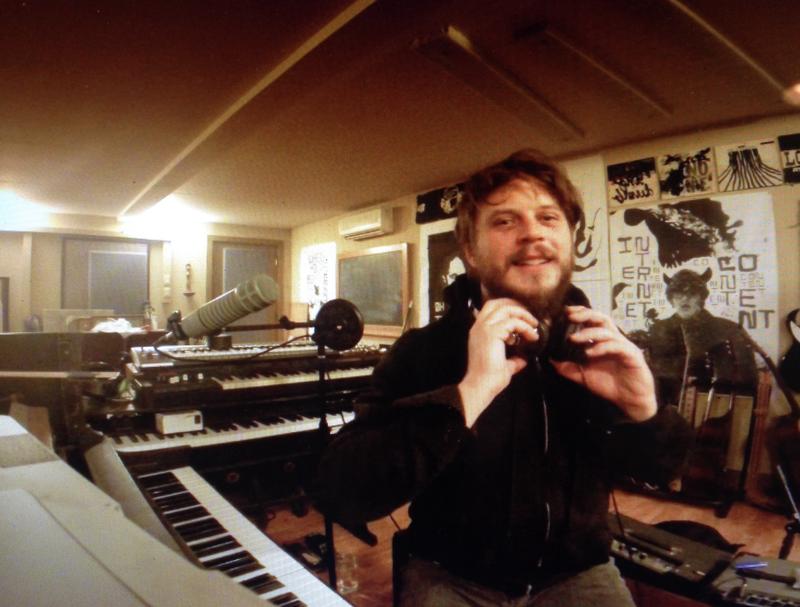 Who wouldn't want to be a fly on the wall during a recording session? Even now, with all we know about what it takes to make an album, it remains this mythologized, analyzed and documented thing -- in hopes gleaning tidbits of wisdom and witnessing fleeting sparks of creativity at play. And yet, the meticulous and workmanlike process of tracking, overdubbing, mixing and mastering, is, to me anyway, far more interesting than the embellished origin story. Often, watching in studio footage helps demystify the proceedings, and offers a glimpse of how they did it, and why.
Which brings us to a new, decidedly home-made music video from keyboardist Marco Benevento, one that drops us right in the action -- with the assist of a GoPro camera.
Set to a brand new song, "At The Show," this video montage shows Benevento at producer Richard Swift's Oregon studio, amid a ton of gear -- including a rare Casio drum machine and keyboard he uses on this song -- and the late night dance parties that broke out at while making his fifth solo album, aptly named Swift.
And for those familiar with Marco Benevento's instrumental work over the years (or maybe from the Soundcheck theme song), one thing will immediately jump out with this new song: For the first time, the longtime keyboardist is singing.
For Swift (out Sept. 16), Benevento enlisted Richard Swift -- an extraordinary musician who, in addition to making his own fantastic music, has enlivened projects from Damien Jurado, The Shins, Foxygen with his unique psychedelic flourishes. Benevento is a sonic dabbler himself; a curious musician who's always coaxing new textures and colors out of his pianos and rigs of synths and effects -- while still maintaining a core singable, memorable melody. Together, Benevento and Swift have crafted a strange and dance-y batch of songs, full of his signature winding passages and layered electronics. But "At The Show," -- and Swift itself -- also serves as a new outlet for Benevento's melodies: his voice and lyrics. It's a natural evolution for Benevento, and it's fun to see a little bit of that musical change behind the scenes.
Marco Benevento's Swift is out Sept. 16 on Royal Potato Family.