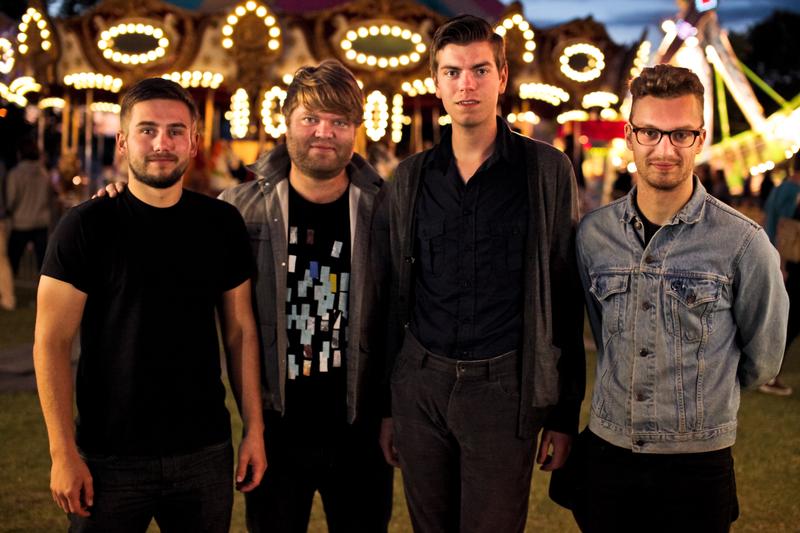 Even in Les Jupes' poppiest songs, there's a sense of something sinister lurking in the shadows. A big part of that unwavering brooding mood comes from the rich and morose baritone of singer, guitarist and producer Mike Petkau Falk, which imply a wearied, heartsick anguish amid the lovely melodies.
Back in 2013, Les Jupes released Negative Space, a concise four-song EP -- culled from something like 25 to 30 demos and unfinished sketches that hinted that there was likely another full-length on the way soon. Now, with Les Jupes' gorgeous new music video for its latest single, "Introversion," we're getting a taste of what's to come.
Even before you watch, "Introversion" already evokes a hair-raising feeling -- especially in those sharp post-punk guitar strikes, the burbling synth bass, and the juked-up adrenaline junkie pulse of the snare drum hits. But this video really teases out and heightens the song's anxiety and isolation. 
Filmed in black-and-white (with the occasional messy splash of purple) by director Ryan Simmons, the video depicts one young woman's day-in-the-life journey. And while nothing particularly bad happens to the main character as she aimlessly floats through a variety of awkward everyday interactions, its use of a Requiem For A Dream-styled inward-facing Steadicam rig, gives the video an off-kilter and alien point of view. It results in a constant dreamlike self-consciousness that perfectly matches the unsettling eeriness of the song.
Les Jupes plays May 14th at Silent Barn and 16th at Pianos. The band's EP, Negative Space, is out now.