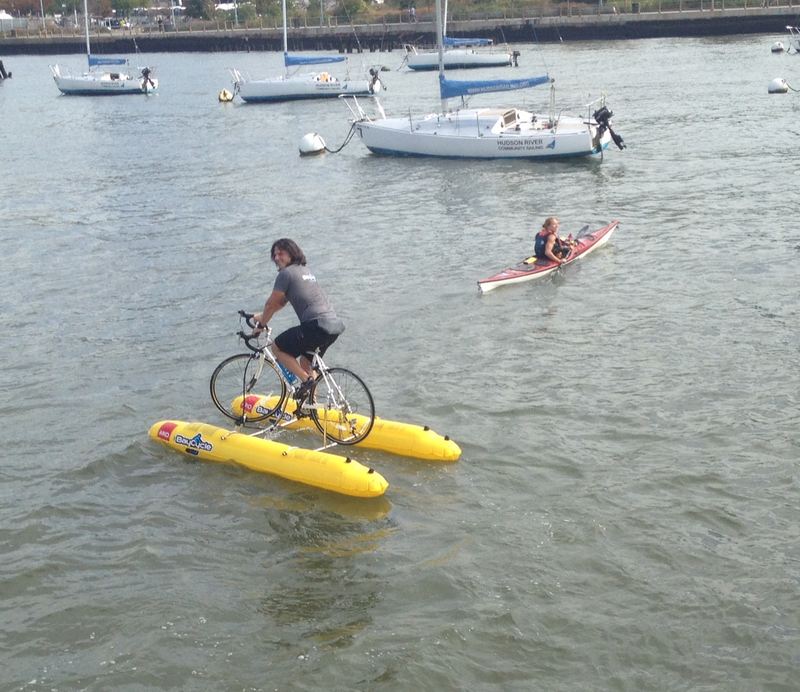 Move over, bike lanes -- the future of two-wheeled transportation may be on the water.
Or at least 41-year-old Judah Schiller is floating the idea. On Thursday, he became the first person to bike across the Hudson River, leaving Hoboken, New Jersey around 11am and arriving at Manhattan's Pier 66 (just north of Chelsea Piers) a mere 15 minutes later.
Organizers had initially thought the trip would take 30 - 45 minutes.
Schiller, a Bay Area resident but a New York native, first had the idea while using bike paths in Oakland and San Francisco. He said crossing the Hudson was easy, although at times the current made it feel more like mountain biking.
"It's a beautiful way to see the New York skyline to come into Manhattan," he said. "It was probably the best New York City commute." 
The device is powered by a conventional bicycle atop a flotation device.
For more about water cycling, check out the BayCycle Project.