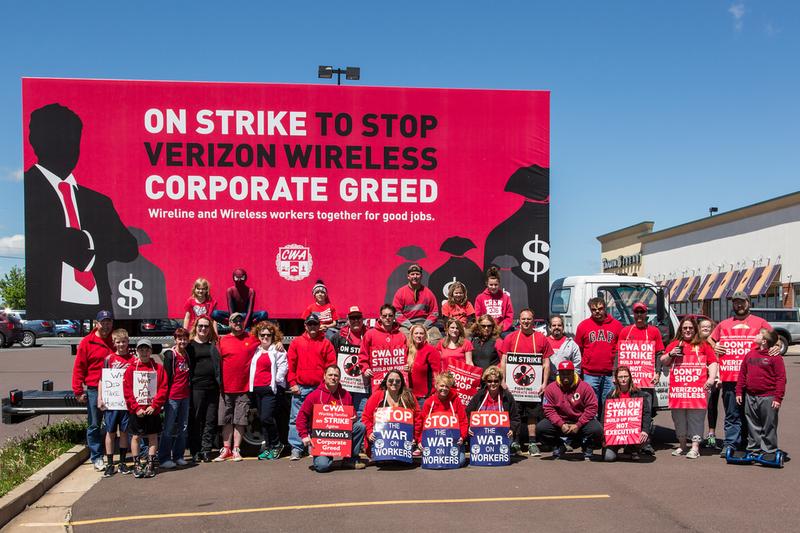 Click on the 'Listen' button above to hear this interview.
Some 39,000 Verizon workers are back on the job today after seven weeks on strike. It is a huge victory for the Communication Workers of America and International Brotherhood of Electric Workers, which represent Verizon employees. 
In their new four year contract, these workers will get a 10.9 percent pay increase, and they'll see an end to the company's policy that assigns workers to far away posts for weeks at a time. Verizon has also promised to keep customer service jobs in the United States. 
The company has said the new agreement is good for employees, customers, and its business. Marc Reed, Verizon's chief administrative officer, said he was proud to announce the company will create 1,400 new positions at call centers for "high quality and well-paying American jobs."
Most of the striking workers are in Verizon's landline division, but 165 of them are employed at Verizon retail stores in Brooklyn and Massachusetts. Those workers voted to unionize in 2014, but have not had a contract with the company until now.
Bianca Cunningham, a former Verizon wireless employee in Brooklyn and a union organizer at her store, was fired from her job last September. She has filed a grievance with the labor board claiming she was targeted for her organizing, though her case is still pending. Cunningham tells The Takeaway that Verizon did not expect to face such financial, political, and public pressure as a result of the strike
Even though this is a huge win for Verizon workers, union membership is about half of what it was in the 1970s. About 11.1 percent of workers in 2015 were in a union, compared to almost 25 percent four decades earlier. 
Steven Greenhouse, author of "The Big Squeeze: Tough Times for the American Worker," explains what this strike means for labor relations across the United States.