World War II Victories in the Desert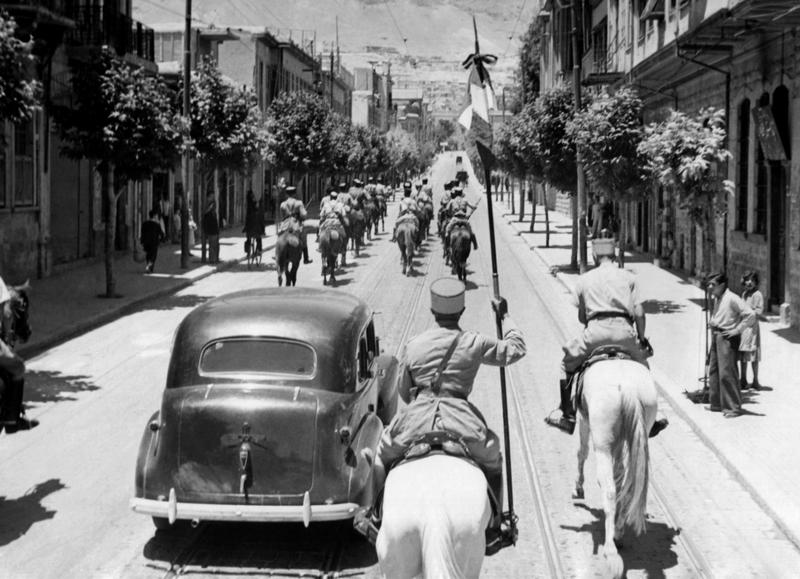 News from the front, is how this 1941 meeting of the Town Hall Club and Cercle Français could be characterized. With World War Two raging, a representative of the Free French fighting in Africa has come to inform American audiences about that army's progress. After a nervous welcome from Josephine Robb Ober, Society Editor for the New York World, toastmaster Paul Phelps-Morand starts off the proceedings by railing against a "stream of Vichy agents" who have been coming to United States in order to sway public opinion. He is pleased to present, in contrast, Dr. Raoul Aglion, a representative of the French government in exile, whose talk is optimistically titled Victories in the Desert.
Dr. Aglion describes how he was fighting with French forces in Syria when the infamous armistice agreement between France and Nazi Germany was signed. He and many other soldiers immediately made their way to Egypt, offering their services to the British. He then speaks more generally of "desertions" that followed, including an anecdote about French soldiers smuggling cup after cup of gasoline past guards so as to fill the tank of a nearby airplane which they then used to cross the border into British-controlled Palestine. He describes the earliest beginnings of what later became the organized Free French Forces. He then launches into an admiring description of the tactics employed in North Africa by Field Marshal Wavell. Straying somewhat from the main thrust of his remarks, he recounts the gaffe he made in referring to the language of Malta as a dialect of Italian. He was reprimanded by a native speaker of that island who informed him that Maltese is, in fact, Phoenician. At this point, unfortunately, the recording breaks off.
---
Raul Aglion (d. 2004) was a lawyer and politician before the war. As the Los Angeles Times relates in its obituary:
…Aglion served as a delegate of Gen. Charles de Gaulle in the United States, where he represented the Free French government in exile. After the war, he was appointed to the French Embassy in Washington and, working with the U.S. secretary of state and others, helped coordinate postwar planning. He also participated in drafting the charter of the United Nations, and he addressed the closing session of the U.N. General Assembly in 1945 in the name of France.
Afterwards, Aglion wrote several books on the Free French. His study of the relationship between Roosevelt and de Gaulle was awarded the History Prize by the Academie Française. 
Paul Phelps-Morand is remembered today for his controversial book The Effects of His Political Life on John Milton, in which, as quoted by Milton scholar Robert Thomas Fallon, he concluded, "Though not Machiavellian in character, he could, on occasion, for the Great Cause, stoop to Machiavellian means."
Perhaps, disparate though these men's writings may be, we can discern a way of dealing with what must have been, for each, the central historical event of his life.
…Maltese is, in fact, a Semitic language, related to Arabic, and may indeed have come to the island, via Sicily, from Phoenicia. 
Audio courtesy of the NYC Municipal Archives WNYC Collection.
WNYC archives id: 150203
Municipal archives id: LT5700