The Takeaway
On Veterans Day, Advice for Veterans From Veterans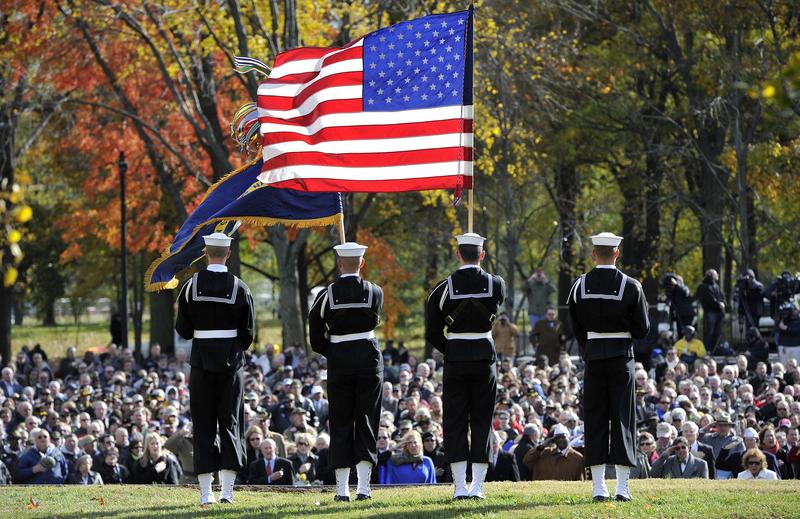 Veterans face a myriad of challenges when they return from service: Accessing medical care, finding employment, coping with a changed home life, and a number of other issues. No one better understands these barriers—and how to overcome them—than veterans themselves.
For this Veterans Day, The Takeaway has collaborated with the Center for Investigative Reporting to collect advice from veterans, for veterans, and by veterans. Many have advised those who have recently returned to reach out early for psychological help.
"Do not be afraid to visit the infirmary and get problems documented, including psychological issues," Fern Lee writes. "If that history exists in service and then occurs in civilian life, it makes it easier to have established a service connection. Those who have service connected issues still go to the VA and file your claims. Do not give up."
Similarly, on Facebook, Shelly writes, "We are organized, and have built a solid community that will be present for generations to come...find this community, talk to them, work with them... Many soldiers will suffer from PTSD, just as many EMT workers, police officers, and rape survivors do."
"You are not alone, and it is a completely normal reaction to having endured and seen what most humans never endure and never see," Shelly continued. "Your experiences in combat are an evolution...it changes you, and that is a good thing. Our nation must always possess those who have seen evil. Give yourself time to readjust, it usually takes a year to even start to feel normal."
Today The Takeaway continues this conversation with two veterans of the wars in Iraq and Afghanistan—Jason Wasieleski, a former Army medic who served in Afghanistan in 2012, and David Retske, a former UAV pilot who served in Iraq from 2004 to 2005. Together they share their advice for returning veterans and discuss what they wish they had known when they returned from service.