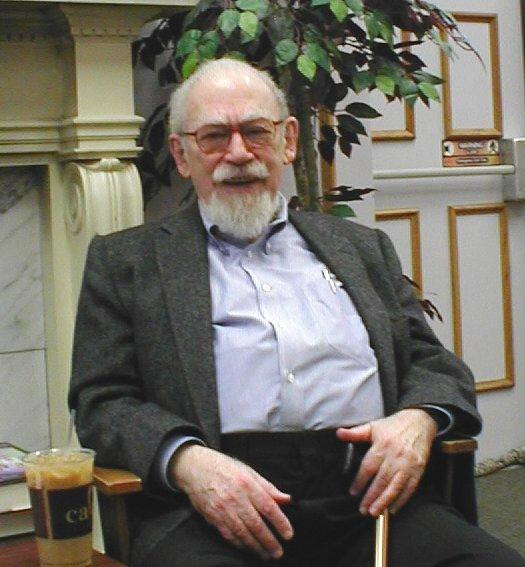 On November 22, 2002, William Tenn, known as the father of the science fiction satire, visited Spinning On Air to give a lively reading of his story On Venus, Have We Got a Rabbi! Now, 14 years later, the story is being republished in full at Tablet Magazine. Listen to the original reading at player above.
About William Tenn
Honored as Author Emeritus by the Science Fiction and Fantasy Writers of America in 1999, Tenn (the pen name of Philip Klass) was born in London, but was raised in New York City, and began to sell his science fiction short stories in 1946. The Science Fiction Encyclopedia calls him "one of the genre's very few genuinely comic, genuinely incisive writers of short fiction." He began writing in 1945 after being discharged from the Army, and his first story, Alexander the Bait, was published a year later. His stories and articles have been widely anthologized, a number of them in best-of -the-year collections. He was a professor of English at the Pennsylvania State University, where he taught -- among other things -- a popular course in science fiction. William Tenn died in 2010.
Tenn's works are currently collected in two volumes published by NESFA Press: Immodest Proposals: The Complete Science Fiction of William Tenn, Vol 1
We would like to thank Fruma Klass and the estate of Philip Klass for their generous permission to repost this reading by William Tenn of his original work first broadcast on WNYC's Spinning on Air with David Garland, November 22, 2002.