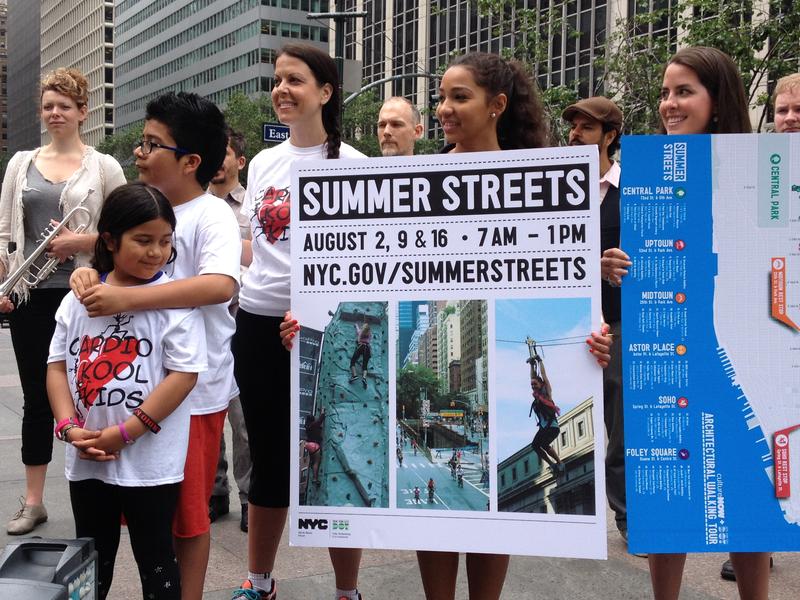 Car-free streets are back this summer in parts of Manhattan and Central Park.
Summer Streets is returning: seven miles of roadway will be closed from the Brooklyn Bridge to Central Park from 7 a.m. to 1 p.m., on the first three Saturdays in August.
At the same time, the Park Avenue Tunnel will be exclusively available to pedestrians. Last year, the seven-block tunnel was turned into a light show. This year, Department of Transportation staffer Emily Colasaco says it will echo with recordings that a Norwegian artist made of oceanic habitats. "There will be mammals, fish, glacial movements, water movements," Colasco said, describing what pedestrians can expect to hear in the tunnel.
In Central Park, the north-south drives above 72nd Street will be open to pedestrians and bicyclists only from June 27 through Labor Day. That's the same schedule as last summer, though transportation advocates had been hoping for more.
When asked about that at a press conference on Friday, DOT Commissioner Polly Trottenberg said closing streets takes planning: "Let's say you wanted to go past Labor Day, for example. Traffic in the city does pick up and you just have to make sure you're going to have a good plan to accommodate that."
She said traffic engineers at the department were studying signal changes and other solutions to possibly extend the duration of car-free streets in certain places beyond the summer. "We're definitely looking into that," she said.