Artist Says Vatican Should Give Citizenship to Illegal Immigrants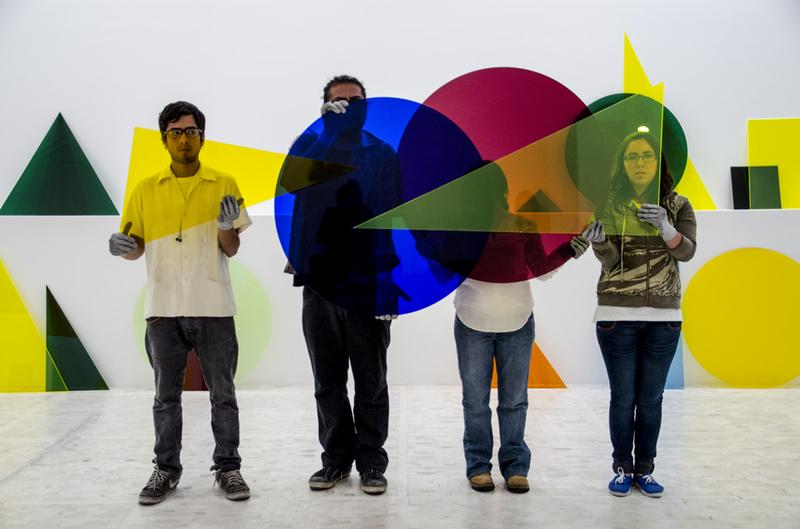 Freedom of expression. Masculinity. Drug trafficking. Immigration. These are some of the topics inspiring 40 contemporary Latin American artists whose work is now on view at the Guggenheim Museum.
Under the Same Sun: Art from Latin America Today features installations, paintings, videos and sculptures from 15 counties, from Argentina to Mexico, Cuba to Brazil.
The exhibit is the second phase of the Guggenheim UBS MAP Global Art Initiative. The first focused on South and Southeast Asian art in 2013. Next year, the museum will feature an exhibit of Middle Eastern and North African art.
At the press opening, curator Pablo León de la Barra said the exhibit marked a "historic moment for Latin America," pointing out that the works will be incorporated into the museum's collection.
Piece by Mexican artist Carlos Amorales (Gisele Regatao)
Tania Bruguera, who is a Cuban installation and performance artist, has two works in the show. One is a video piece filmed in Havana, where locals got to say whatever they wanted.
Although the Cuban government approved the project initially, they were unhappy with some of the criticism people expressed and asked Bruguera to write a letter condemning the outcome. She refused. 
"I am still in punishment mode there," she said. "I am not able to do anything in Cuba at the moment. The institutions have the order not to show my work, I am not invited to any public event. I am being erased from the history."
But Bruguera can travel abroad. And she is not shying away from controversy with her other performance piece at the Guggenheim show. Called Dignity Has no Nationality, it's a petition to Pope Francis to give Vatican nationality to the world's undocumented immigrants. Bruguera will be on the sidewalk of the museum herself collecting signatures and she said people can sign online, too.
"I don't know, I am out of resources at this point, so I guess this is a desperate call. So if he can't help, that's it. I don't know who else," she said, laughing.
Brazilian artist Jonathas de Andrade has a piece in the show commenting on the Museum of the Man of the Northeast, a real museum created by well-known anthropologist Gilberto Freyre in the 1970s.
Brazilian artist Jonathas de Andrade and his piece Posters for the Museum of the Northeast Man (Cartazes para o museu do homem do nordeste), 2013 (Photo by Gisele Regatao)
"Today it would be impossible, I think, to create a museum with a title of 'Museum of the Man,'" Andrade said. "So I treated it as a museum of masculinity." To show how ridiculous the concept is, he took photographs of local men working or hanging out on the streets and created fake poster ads for the museum, as if it were a museum of men. Andrade said he also thought there shouldn't be a museum purporting to be about people — because people are real, not museum objects, and they are ever-changing, unlike a painting or a photograph.
The show is on view until Oct. 1.