The Takeaway
Meet the Space Archaeologist Using Satellites to Save Ancient Ruins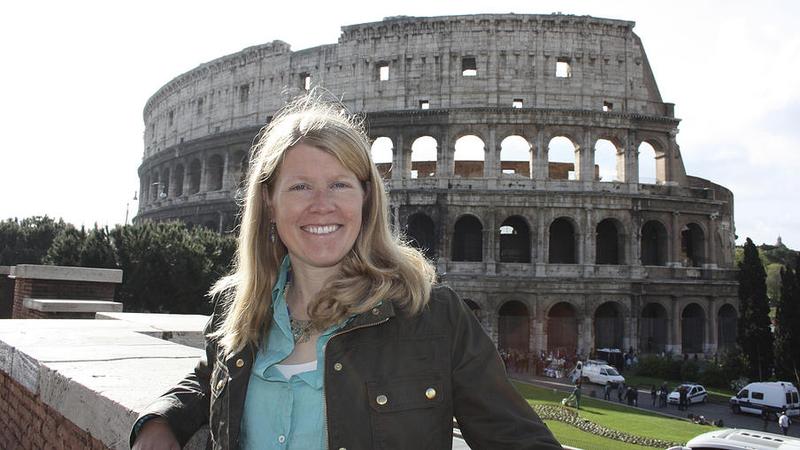 Click on the audio player above to hear the full interview.
She's been called a high-tech Indiana Jones, but Sarah Parcak doesn't need any help from Steven Spielberg to make the world watch in wonder.
Earlier this week, TED announced that Parcak, a satellite archaeologist, had been selected for its 2016 TED Prize—an acolade bestowed on one individual every year that comes complete with $1 million. Parcak, an associate professor and founding director of the University of Alabama at Birmingham's Laboratory for Global Observation, uses satellite imagery to track looters plundering archeological sites in ancient Egypt.
"Just after the Arab Spring started in Egypt in late January 2011, we started hearing rumors about looters going after archeological sites near Cairo," Parcak says. "It's one thing to hear rumors or eye witness reports, it's another thing entirely to be able to capture that data from space. Images don't lie."
Parcak examined high resolution satellite images from before the Arab Spring. That "before data," she says, was compared with the "after data" to search for clues and to track things that are hard to see on the ground.
"We look for small, dark circles or squares surrounded by a donut shape of earth, which indicates recent digging," she says. "They look very, very different from excavation units. It's really this comparative before and after imagery analysis to show us exactly where looters have been digging pits."
Looters have been robbing tombs in Egypt for more than a millennia. Though Parcak and her team are mapping sites that have already been disturbed, she says that the satellite imagery can help prevent further thefts.
"In Egypt, this is a civilization that lasted for thousands of years, and as a result it has millions of tombs," she says. "Often times these tombs would be built one on top of the other. So when looters come in and keep a hole open, and we see that hole remain open, it worries me—I wonder if they've tunneled down; if they're going deeper and deeper and going after other tombs. That's something I can't see from space."
Parcak collaborates closely with the Egyptian antiquities ministry and the country's recovery and repatriation unit in order to identify which sites are still vulnerable, and to recoup stolen treasures.
"We're sharing all of our satellite data with them and showing them exactly where in Egypt is being targeted by the looters," she says. "They've got a really robust database of thousands of objects that they've recovered from people attempting to smuggle them out of Egypt. We're trying to match up the data and trying to figure out where these pieces are coming from. In some instances, we're making them aware of looting going on at sites where they simply had no idea."
Long term, Parcak says researchers hope to be able to use satellite data to capture looting going on in real time—something that would allow Egyptian authorities to apprehend perpetrators before they hit the black market with stolen goods.
Parcak believes the modern destruction of the ancient world is one of the reasons she was selected for the 2016 TED Prize. As the self-proclaimed Islamic State expands its network, the terror group has found a steady source of funding in stolen antiquities. After oil, stolen cultural treasures are ISIS's second-biggest source of funding, and the group may completely destroy the ancient city of Palmyra in just six months.
"We're really at a tipping point with protecting our shared global heritage," says Parcak. "We've got all the tools, all the technologies, and all the knowledge to protect these sites, and if we don't do something about it, so many of these sites are simply going to be gone."
With the $1 million, the TED Prize supports one "wish" to inspire the globe. On February 16, 2016, Parcak will announce her wish to the world in an event that will be livestreamed at the TED website. Though she is the sole recipient of the TED Prize, Parcak says she believes this is an award for her field.
"When I heard that I won, I felt this very heavy weight on my shoulders," she says.
Click on the audio player above to hear Parcak's full interview with The Takeaway. Check out her 2012 TED Talk on space archeology below.