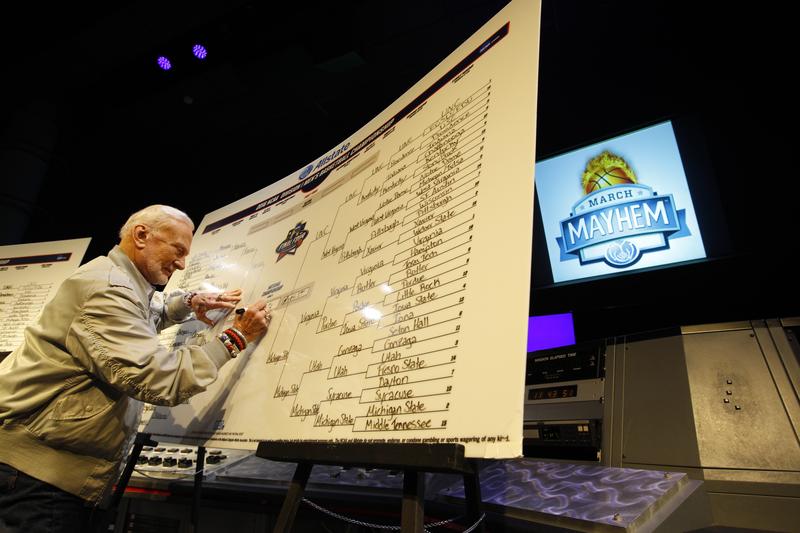 March Madness is upon us once again. This year's NCAA Division I Men's Basketball tournament welcomes five teams making their first time appearance, including Northwestern and UC Davis.
Villanova, the national defending champions, earned the overall number one-seed. Experienced teams like UNC and Arizona made it back to the Big Dance, but there's no telling what could happen in a field where the number one-seed in the regular season changed hands several times.
Brackets are due by the first tip-off on Thursday at 12:15 PM Eastern standard time. Whether you're a passive fan or a die-hard supporter of your alma mater, we got in touch with someone who can help out with your office and family pools.
Joe Gagliano knows a thing or two about making the right picks. He's a sports gambling expert, and the person that orchestrated and financed the largest sports scandal in history, and author of the book, "No Grey Areas: The Inside Story of the Largest Point Shaving Scandal in History and the Consequences."
Gagliano's fixing days are behind him, and now he gives advice on filling out tournament brackets. Here are his top 3 tips:
"Don't be predictable. Everyone is going to have their usual suspects going all the way, whether it's the Elite 8, the Final 4, or the championship game. Everyone's going to have your Kentuckys, the Kansas, the Dukes, the Villanovas. So you're not gonna surprise anyone. Where you're gonna be different and where you're gonna your pool make sense is when you pick up all the cheap points in Round 1 or 2 — the 5-12 match-ups, the 6-11 matchups, the 7-10 matchups. So those are where you're gonna pick up some points, and that's where you're going to actually outperform other people inside your pool.


Pick teams that have momentum, don't be afraid to take the lower-seeded teams. Look at the last five games that they teams have played. Don't lose track of the fact that these are 18-, 19-, 20-year old kids, and although they're wickedly talented, athletically, they're probably for the most part a little mentally unstable. If you get a team that has confidence behind it even though they're in an inferior conference, but if they've got a whole bunch of momentum behind them, and they're on a four-game win streak, five-game win streak. These kids just believe they can do anything at that point.


If you're gonna play it and you're gonna gamble it, and you're gonna try and pick some winners, just don't play with the rent money. Just don't play with money that's gonna make a difference in your life. Just play with what you need to have fun and to keep you interested, and try to beat the other people inside your pool.
Listeners also wrote in with their own tips: 
From Myrtle Beach, South Carolina: Pick Kentucky is the best tip I have!
From Wantagh, New York: It's all about the coolest mascots, especially if the team is an eleventh-seed.
From Lima, Ohio: Pick Michigan!
And if you're not a fan of college basketball, there are always those great spinoff brackets that happen at this time of year. We, of course, loved the KPCC brackets from 2015 that let you match up your favorite public radio shows. Listeners provided their personal favorites:
Jessica from Brooklyn, NY: "My husband and I did a bracket with our top 16 baby names when I was pregnant. We seeded them in alphabetic order and each name did battle with the names next to it until we came out with a winner. My husband's winner ended up being our winner."
Allen from Brooklyn, NY: "Some brackets I've been following lately include the Trevor Noah bracket for Trump tweets and the Bill Maher brackets for worse Congressman. There are probably others but those stand out"
Victoria from Austin: "I think SXSW should have its own brackets - one for music, one for films, and one for events. There are so many things happening here it is simply an embarrassment of riches. That's my March Madness."