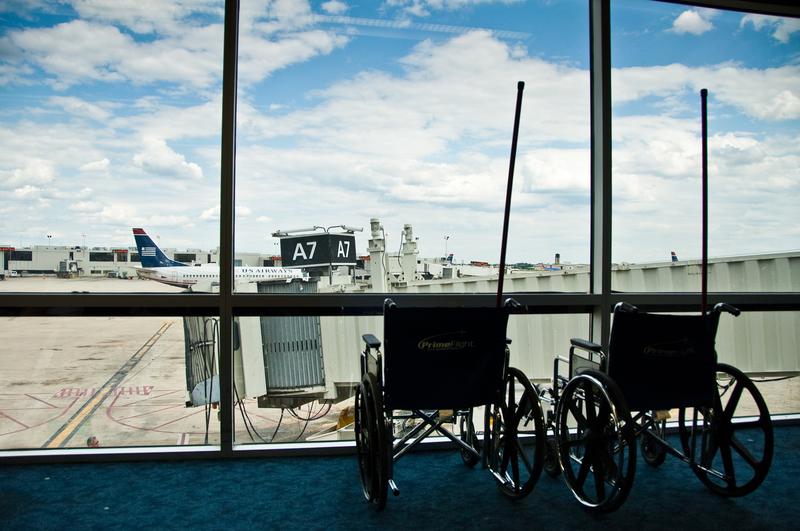 After examining hundreds of complaints from disabled passengers, the Department of Transportation is fining US Airways $1.2 million for "egregious violations" at airports in Philadelphia and Charlotte.
The DOT says it's one of the largest fines that agency has ever levied in a disability case.
Airlines are required to provide free, prompt wheelchair assistance upon request to disabled passengers, including helping transport them between gates and make connections to other flights. But according to the DOT's investigation, US Airways missed literally hundreds of opportunities to fulfill that responsibility.

The fine came about after the DOT examined roughly 300 complaints filed by US Airways passengers in 2011 and 2011, revolving around incidents at Philadelphia and Charlotte -- the airline's two largest hubs.
(According to the DOT, that 300 figure covered "only a sample of complaints filed over two years against US Airways for the two airports.")
The DOT found scores of violations, including a wheelchair passenger left unattended on a plane after everyone else had disembarked, and a passenger conveyed to the wrong gate -- and then left there. One passenger reported having to wait for over an hour for a wheelchair. Numerous passengers reported missing connections due to inadequate assistance.
One irate Philadelphia passenger posted her story on the airline's Facebook page. Her opening line: "If you are a disabled passenger Please DO NOT fly US Airways."
"All air travelers deserve to be treated equally and with respect, and this includes persons in wheelchairs and other passengers with disabilities," said U.S. Transportation Secretary Anthony Foxx. "We will continue to make sure that airlines comply with our rules and treat their passengers fairly."
In a related story, earlier this year attendants at the Philly airport told the AP the airport's wheelchairs often have bad brakes, broken handle grips or other problems.
The DOT says US Airways can use up to $500,000 of the $1.2 million fine to pay for improvements in service to disabled passengers. 
According to a statement from US Airways, the airline is already making $2 million worth of improvements a year to its disability assistance program. "As a result of these initiatives," reads the statement, "US Airways has seen a significant reduction in complaints to the airline about the handling of disabled customers in Philadelphia and Charlotte."  
Read the DOT's order here.