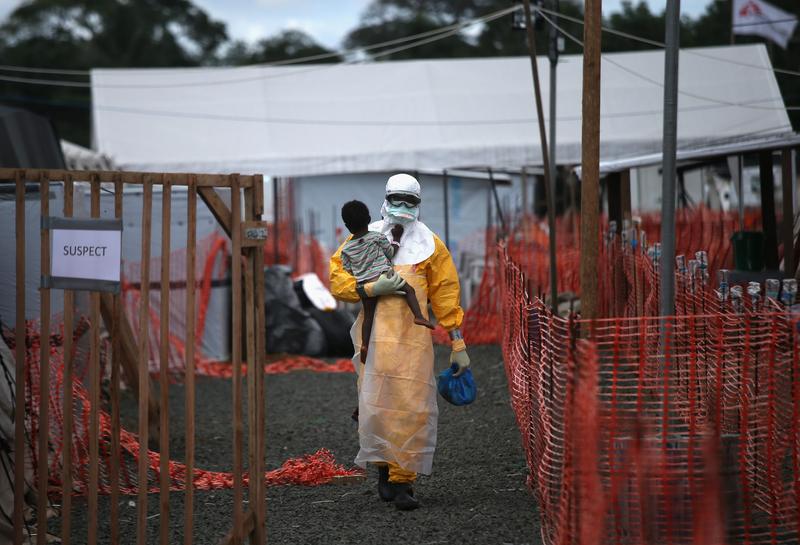 According to the Centers for Disease Control, since the Ebola outbreak in West Africa began, health officials have confirmed more than 9,265 cases and at least 4,057 have died. Many more have been affected by the disease in other ways, losing friends, family members and a way of life.
But the outbreak has finally slowed: The World Health Organization found only one new case of Ebola in Liberia during the week of February 22, 2015, and the United States is wrapping up its Ebola mission in the West African country. Today, Liberian President Ellen Johnson Sirleaf visits with President Obama at the White House to discuss the country's progress.
As Vice President of Emergency Response at AmeriCares, Garrett Ingoglia manages a team of disaster relief and global health workers in Liberia. He traveled to the nation as the disease broke out, at the height of the epidemic, and again just recently. He tells The Takeaway about Liberia's progress against the disease, and how the country is trying to return to normal.
"I think calling it a victory would be a little premature, but there's certainly been a lot of great progress," says Ingoglia. "When I was in Liberia in September, the situation was really dire—there were reports and projections that there could be 1 million people dying of Ebola by the time it was through. That has not happened, and a lot of the credit goes to the government of Liberia and the government of the U.S."
The key to turning the tide on the Ebola epidemic, Ingoglia argues, was changing the attitudes and behaviors of the communities directly affected by the spread of this deadly disease.
"People really did, in Liberia particular, change their behavior," he says. "If you go to Liberia now, you don't see people shaking hands and being physically affectionate on the street, which was a big part of the culture before. People are washing their hands and being very careful about taking precautions."
In addition to warm greetings, burial rituals have also been disturbed in Liberia. Ingoglia says he does foresee a cultural return to normalcy in the future.
"I don't think that the way people are behaving now is truly sustainable," he says. "You're not going to have a situation where nobody hugs or shakes hands in the street. I think those things will change, but I think that there's going to be a heightened awareness of the threat of this kind of disease. Critically, the health systems itself in these countries has got to improve."
Before the disease took hold, Ingoglia says that many of the Ebola-stricken nations in West Africa had a weak medical infrastructure that contributed to the spread of the virus. As nations like Liberia recover, he says that investment must be focused to ensure that healthcare workers are well equipped to deal with threats in the future.
"In Monrovia, where there were the majority of cases [in Liberia], there are now signs everywhere and lots of attention placed on infection prevention and control," says Ingoglia. "You can't walk 10 feet without seeing a billboard or sign warning of the dangers of the disease...You'd be surprised at how widely the message has been spread."