U.S. Rep. Adam Schiff Talks Trump, Wiretaps, and Sessions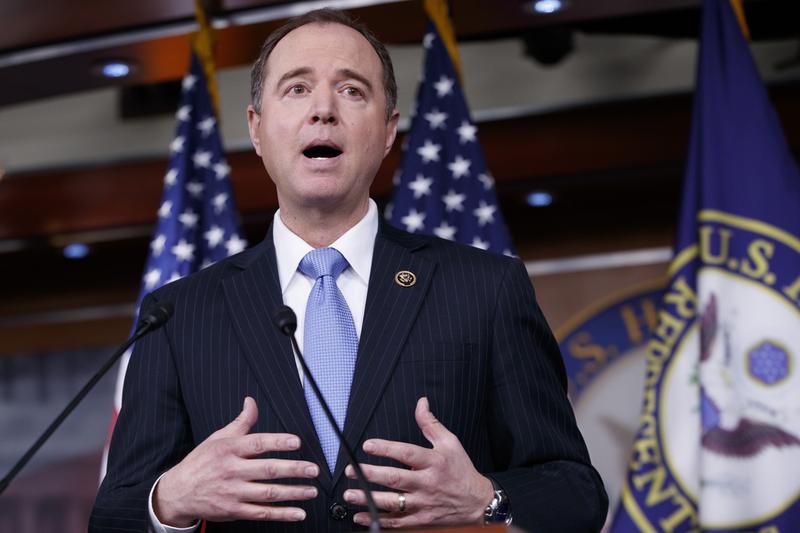 With guest host Jane Clayson.
The ranking member of the House Intelligence Committee, Democratic Representative Adam Schiff, joins us to talk Trump, allegations against Jeff Sessions and U.S. national security.
President Trump fired off a tweetstorm this weekend. He said President Obama wiretapped his phones at Trump Tower. A shocking charge. So far, unsubstantiated. Didn't happen, says the FBI and the former Director of National Intelligence. We'll unpack it with Congressman Adam Schiff, ranking Democrat on the House Intelligence Committee. This hour On Point, wiretaps, Jeff Sessions and the latest firestorm from the White House.
Interview Highlights
On Rep. Schiff's reaction to wiretapping allegations
"Of course my first reaction was astonishment, shock. I think that was probably the prevalent reaction around the country. Most people have correctly observed that if the President's accurate about this, that it would mean one of two things, that either a federal judge had concluded there was probable cause to believe that either he or his associates were engaged in a crime. Or, from the counterintelligence point of view, that he or his organization were agents of a foreign power. Neither of those, obviously, would reflect positively on the President.
But I think there's a more likely explanation, which is every bit as troubling to me, and that is that this is a president who cannot separate fact from fantasy, and when it comes to his Constitutional obligations as commander in chief, doesn't know the difference between right and wrong, and in the long wrong, that may be the far more significant problem than either of these hypotheses."
Rep. Schiff on the most effective way to investigate Russia ties
"I would recommend that we do things in addition to the investigations going on in the House and Senate intelligence committee, and one of them is the appointment of independent consul. I held off on that conclusion until I felt that certain facts warranted a decision by the Justice Department about whether to prosecute individuals. I think the facts with respect to Mike Flynn have reached the point where the Justice Department is going to have to evaluate, should he be prosecuted for his conduct? I don't think that decision can be made by the attorney general, and his very partial recusal wouldn't appear to cover Flynn because that conduct took place, at least part of it, after the campaign was over. So I think an independent consul can and should look into that. Perhaps the charge of the independent counsel should be broader than that.
But I also think probably, the more significant step Congress could take would be the formation of an independent commission like we had after 9/11. That would be truly outside the political realm, I think it would have the greatest level of credibility with the American people, but it would be staffed appropriately to do this kind of investigation."
Rep. Schiff on whether Attorney General Sessions should step down
"I think his partial recusal is inadequate. If you hold the Attorney General to the same standard he held witnesses when he was voting on their confirmation, he would be calling on them to step down after misleading them the way he did the Senate. So I think he should step down. He hasn't met his own standards, but beyond that, because this Russia issue so suffuses the whole administration, I think that it's impossible for him to oversee even part of this investigation."
Rep. Schiff on how prosecuting an FBI agent cause in a sex for secrets trap by the Soviet Union and impacts his views on Russia now
"It certainly feels like I have come full circle because at that time, we were not only prosecuting an FBI agent for espionage, but I was working with other agents in the FBI to make the case, and to look at what the Russians did, how they operated, what they were after, and a lot of those questions are coming back now."
Rep. Schiff on how the Russia investigation will help other countries
"One of the most important purposes of this investigation is we need to know fully what the Russians did. We need to know that so we can inoculate ourselves in the future and I hope in any future campaign where we see the Russians engaging to try to help one side or the other, that both political parties condemn it. That we expose it and that we condemn it.
But more than that, right now Europe is under assault by some of the same tactics Russians used here, and, indeed, Russians have used these tactics in Europe before they used them in the United States. The great shock to us was they would have the unmitigated temerity to use them here in the United states, but yes we need to use this information to protect our allies and protect the whole idea of liberal democracy."
Rep. Schiff on whether we have reason to be concerned about our national security
"Absolutely. One of the most important conclusions that the intelligence community reached in that report that was published is, what the Russians did to us, they will do it again. We have every right to be concerned about attacks by Russia on our democracy, but we have also very much to be concerned with Russia remaking the map of Europe by dent of military force as they did in Ukraine, and as they have done elsewhere, and, if they're not pushed back hard, as they will do again."
Guests
Greg Miller, national security reporter for the Washington Post. (@gregpmiller)
Rep. Adam Schiff (D-CA), U.S. Representative for California's 28th District. Ranking member of the U.S. House Intelligence Committee. (@repadamschiff)
From The Reading List
Washington Post: Sessions met with Russian envoy twice last year, encounters he later did not disclose — "Then-Sen. Jeff Sessions (R-Ala.) spoke twice last year with Russia's ambassador to the United States, Justice Department officials said, encounters he did not disclose when asked about possible contacts between members of President Trump's campaign and representatives of Moscow during Sessions's confirmation hearing to become attorney general."
POLITICO: Rep. Schiff accuses Comey of withholding information on Russia probe — "The top Democrat on the House Intelligence Committee on Thursday accused FBI Director James Comey of withholding crucial information about its probe into Russian interference in the election and raised the prospect of subpoenaing the agency."
New Yorker: Trump, Putin and the New Cold War — "Remarkably, the Obama Administration learned of the hacking operation only in early summer—nine months after the F.B.I. first contacted the D.N.C. about the intrusion—and then was reluctant to act too strongly, for fear of being seen as partisan. Leaders of the Pentagon, the State Department, and the intelligence agencies met during the summer, but their focus was on how to safeguard state election commissions and electoral systems against a hack on Election Day."
Copyright 2017 NPR. To see more, visit http://www.npr.org/.