The Takeaway
Tax Dodgers: U.S. Fears Firms Who Choose to be 'Un-American'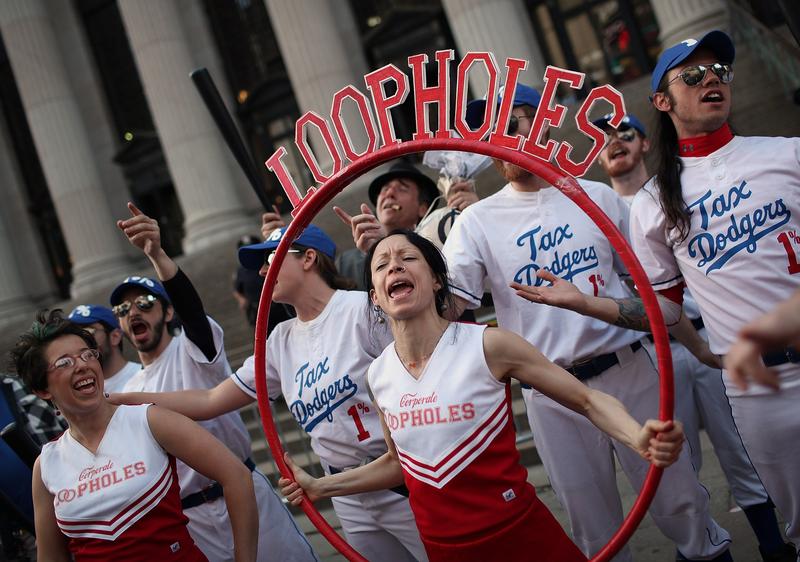 A trend is catching hold among large corporations in the United Sates, and its consequences could be devastating for the corporate tax base.
U.S. companies are increasingly deciding to relocate overseas to cut their tax bills. It's called inversion, and it occurs when corporations merge with businesses overseas, which allows them to move their headquarters to countries with lower corporate tax rates.
Inversion is not new, but it is happening more frequently.
"The inversion virus now seems to be multiplying every few days," said Senate Finance Committee Chairman Ron Wyden during a committee hearing Tuesday. "Medtronic, Mylan, Mallinckrodt and many more deals have either occurred recently or are currently in the works."
Earlier this week, Senate Majority Whip Dick Durbin, a Democrat of Illinois, sent a heated message to Walgreens, which is considering a merger that would move its headquarters from Springfield, Illinois to Switzerland. He weighs in on inversion, and what lawmakers are doing to fight it.
"Walgreens is, of course, originally an Illinois company that has expanded to have a nation-wide presence," says Sen. Durbin. "I've been very proud of this company because I think that they're responding to needs across the United States. Now, they've bought a company in Europe called Alliance Boots, and they are at least deliberating over whether they're going to renounce their American corporate citizenship and move to Switzerland."
The company is considering moving because they desire a lower tax rate, and they want to "avoid paying their fair share of U.S. taxes," says Sen. Durbin. 
Sen. Durbin says that as many as 60 U.S. companies have already relocated overseas to dodge American taxes, adding that the loss to the U.S. Treasury Department over time is estimated to be more than $20 billion.
If Walgreens were to relocate to Switzerland, Sen. Durbin estimates that the company would doge about $800 million in taxes each year.
"That is of course a huge some of money, and that seems to be the incentive for them to move," he says.
The Minnesota-based company Medtronic is also planning on moving its corporate headquarters, and the pharmaceutical research company AbbVie, formerly known as Abbott Labs, moved to the island of Jersey off the coast of France.
"We're dealing with companies that built their businesses in America, and relied on American investment for their profits," says Sen. Durbin. "The National Institutes of Health, which is funded by American taxpayers, provides the basic research to find new drugs which companies like AbbVie would then protect their rights to through the U.S. Patent Office."
Sen. Durbin also points out that Walgreens relies heavily on taxpayer-supported Medicare and Medicaid reimbursements to generate a profit. 
"They are trying to take advantage of everything in America—they just don't want to pay for America," says Sen. Durbin. 
The practices these businesses are taking up are a form of "corporate desertion," according Durbin. When it comes to discouraging this type of tax dodging, Sen. Durbin isn't sure that there's enough bi-partisan support.
"The reality is we're getting mixed signals from the Republicans as to whether or not they think this is a problem," says Sen. Durbin. "I think it is—I think these companies that are deserting the United States and renouncing their American citizenship are putting an added burden on the companies remaining."
Sen. Durbin says that representatives from CVS came to the U.S. Capitol recently. When asked by Sen. Durbin if they too would relocate, the pharmacy behemoth—and main competitor to Walgreens—said they have no plans to leave, yet.
"This gives a dramatic advantage to Walgreens in terms of more money that they can invest in the United States," adds Durbin.
Amending the law to stop this practice or make it more difficult is not likely to happen. 
"The reason, of course, is the Congress as we know it today, with the Tea Party domination of the House Republicans, makes it almost impossible to even say the two words 'tax code'—many of them live in moral fear that that just invites a primary contest," says Sen. Durbin. "If we are going to change the tax code to try and keep companies in America, and keep their profits subject to American taxation, I'm afraid we aren't going to find a very welcome course in the House of Representatives." 
In addition to moving to countries like Switzerland, many businesses like Fruit of the Loom have relocated to the Cayman Islands to avoid corporate taxes.
"There are these islands with businesses that consist of one building housing hundreds of businesses—it's a complete fiction," says Sen. Durbin. "It's a paper transfer, and it has nothing to do with a presence in the Cayman Islands. These are tax dodges that are allowed within loopholes in our tax code that we've been unwilling or afraid to tackle. I think it's long overdue to have real tax reform."
Without reform, companies are likely to continue to move to increase their bottom line—by any means necessary.
"Giving up our American corporate citizenship to make a few more bucks—have we reached that point?" Sen. Durbin concludes. "There should be some sense of corporate responsibility to this nation."