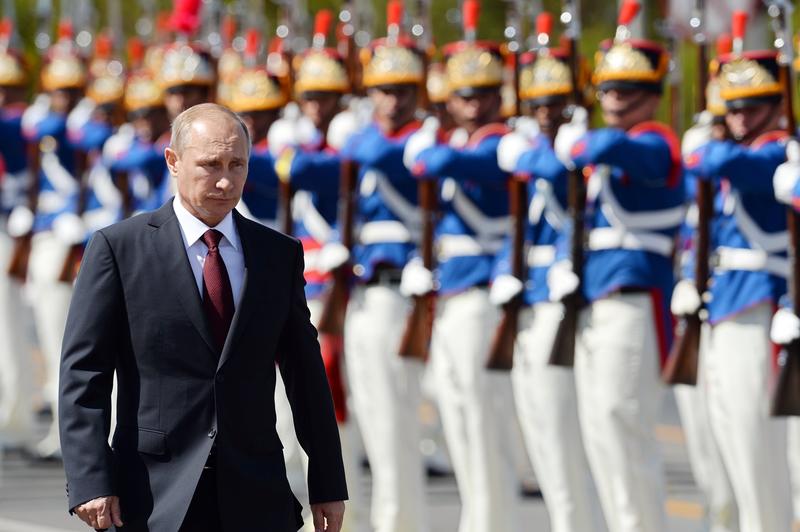 This week, European Union officials announced its first round of broad sanctions against Russia since the crisis in Ukraine began. Hours later, President Obama matched his European allies, promising a new round of sanctions to punish the Kremlin for its recent actions in eastern Ukraine.
"Russia is once again isolating itself from the international community, setting back decades of genuine progress," President Obama declared on the White House lawn. "And it doesn't have to come to this. It didn't have to come to this. It does not have to be this way. This is a choice that Russia—and President Putin in particular—has made."
Starting August 1st, the E.U. will severely restrict Russian state bank access to European Union markets, and will enforce an embargo on new arms sales to Russia. The sanctions will also limit Russian access to certain oil technology. As for the United States, President Obama announced more restrictions for Russian banks and plans to match the E.U.'s block on oil technology. 
President Obama insisted that the development was not the ghost of a past conflict.
"It's not a new Cold War," the president said Tuesday while speaking to reporters. "What it is is a very specific issue related to Russia's unwillingness to recognize that Ukraine can chart its own path."
Even though the pressure is mounting from both Europe and the United States, it's possible sanctions may not go far enough. Ambassador Michael McFaul, who served as U.S. Ambassador to Russia from January 2012 to February 2014, says there's more work to be done to curb Russia's bad behavior.
"I think it's the threat of new sanctions that change actors' behaviors," says Ambassador McFaul. "Once the sanctions are implemented, the target usually doubles down and blames those doing sanctions. I think that will happen with Putin, of course."
Though Ambassador McFaul feels that sanctions can help alter the behavior of international players, he does concede that producing such a result takes time.
"It has to effect the economy, it has to effect individuals—both the citizens at large and specific economic interest groups," he says. "And that, judging from other historical experiences, takes years to have that feedback effect. Unfortunately, I think that's what we're in for with Russia."
According to McFaul, the pain of sanctions could be felt both ways.
"It's asymmetric—Russia is just as dependent on Europe, as Europe is dependent on Russian energy supplies," he says. "When it comes to the financial sector, Russia is much weaker than the rest of Europe and the United States. They rely on the dollar and access to capital markets; it's not symmetric. I don't know what's coming next, but most certainly the rhetoric out of every major capital in Europe has changed literally in just the last 48 hours."
As Pieter Feith, a senior Dutch diplomat and former Special Representative for the European Union, explains, the E.U.'s energy dependence on Russia prevented European officials from taking a strong stance.
However, in the weeks following the crash of Malaysian Airlines flight 17, he says E.U. officials started to change their minds. Dutch officials have reported that it's been increasingly difficult to access the site of the passenger jet because the conflict in eastern Ukraine have severely hindered attempts to reach and secure the site.
"Over the past weeks and months, we have witnessed a continued violation of norms and principles by the Russian government," says Feith. "I agree that initially the reaction by European governments was somewhat lackluster. But now they have galvanized, and the sanctions that have been agreed to now are significant. I think everybody agrees—including our captains of industry—there will be no more business as usual for a long time to come. This may also effect our own interests, but we think this is necessary."
Feith says that it is absolutely vital that Putin understands that he must comply with international standards and stop interfering in Ukraine. The Dutch are hurt and angry, says Feith, who says that the people of the Netherlands view the downing of MH17 as a national tragedy.
But what if the majority of passengers on that plane were American? Would the world be seeing a much different response?
"For the Dutch people, this is our own 9/11," says Feith. "If this had happened to the United States, the reaction would have been more forceful. But then again, your economic dependencies and your relationship in terms of trade and investments are less significant than for us in Europe. Secondly, the United States is a sovereign state, a sovereign government, and a single decision-making authority. We are working in a European Union where we try to reach consensus."