In Visit with Brooklyn Tenants, de Blasio and Heastie Pledge Their Support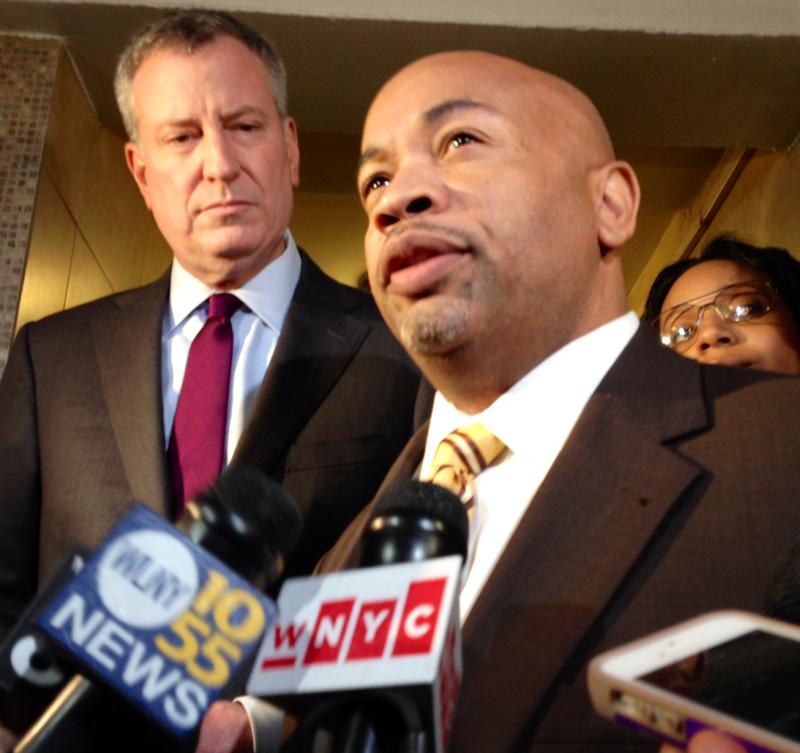 Updating rental laws with more provisions for renters is something newly-elected State Assembly Speaker Carl Heastie and Mayor de Blasio already agree upon. On Sunday afternoon, Heastie joined de Blasio at The Ebbets Field Apartments, a 1325 unit, rent-stabilized development in Crown Heights, Brooklyn. They spoke with a handful of residents about their concerns.
"This is going to be our number one priority to extend and strengthen rent regulations in the city of New York," said Heastie. He offered to be a partner with the mayor in his vision for affordable housing.
De blasio said the laws are set to expire this summer, so he needs Albany's help. "Not just the resources…to step up in terms of enforcing [rent] regulations," he said.
Tenants expressed worry about being priced out of a neighborhood that's in the midst of gentrification, but said they're also tired of living in a development built in the 1960's that's now in disrepair.
"They don't want you to know that repairs are supposed to be done in a timely manner," said Tenant Association President Beverly Newsome, about major building violations that have plagued the development over the years. Newsome also asked the elected officials to update the laws so they would punish landlords who knowingly take advantage of tenants.
The building has been in chronic disrepair for decades. In 2009, owners were hit with more than 1,200 building violations for things like mold, and lack of heat and hot water. Last year, the development received 140 violations.
Fieldbridge Associates, an LLC that owns the apartments on the site of the former Dodger Stadium, did not respond to repeated calls for comment.