You Can't Get There From Here — Not on Unshoveled Sidewalks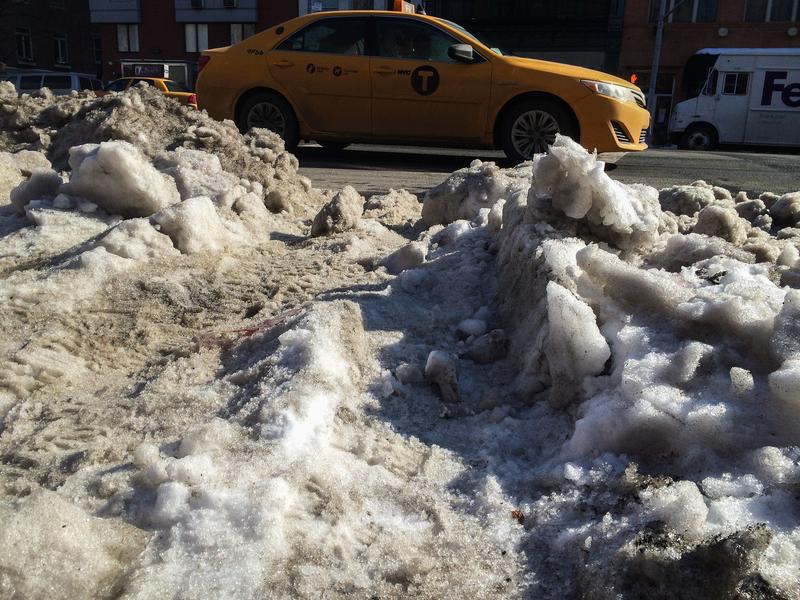 New York is a city of walkers, but with several days of snow and freezing rain, the walking isn't easy.
On West Houston Street, Lou, who declined to give her last name because her children told her not to leave the house while the streets are still icy, ran into a major obstacle.
"I got to the corner, and it wasn't cleaned and a big high mound of ice," Lou, who uses a walker, said. "I found a very nice gentleman who helped me over it, otherwise I couldn't have made it."
She said she hadn't left the house all week, but finally had to get groceries.
Crosswalks, like the one blocking Lou's path, are a grey area as far whose responsibility they are to clean, according to the city. The Department of Sanitation is deploying 715 emergency snow laborers in all five boroughs. They're shoveling out crosswalks, side streets and bus stops. They're paid $12 an hour, and after working 40 hours a week, the pay increases to $18.
The city says there are 107,000 fire hydrants, 140,000 bus stops and 341,000 crosswalks, all of which need to be shoveled clean.
In Washington Square Park, Sunaura Taylor, who uses an electric wheelchair, said this has been a tough week.
"For one thing, I can't find where the curb cut is, but there's also a huge mound of snow right in the curb cut. So basically it means, I can't get off the sidewalk," said Taylor, who travels several blocks in the wrong direction to find a clean crossing.
Rebecca Adler lives on the Upper East Side and has slipped and fallen several times this week, but sustained no major injuries. She said the bad streets couldn't have come at a worse time.
"Yesterday was the beginning of fashion week, and everyone was wearing their heels, and I'm wearing boots today and I'm still slipping," said Adler. "These are really strong rain boots, and they're not doing the job."
The emergency shovelers will be out Saturday, and may have more work after that — there's a possibility of light snow after midnight Saturday.