New Sounds
#3486: Unremembered, by Sarah Kirkland Snider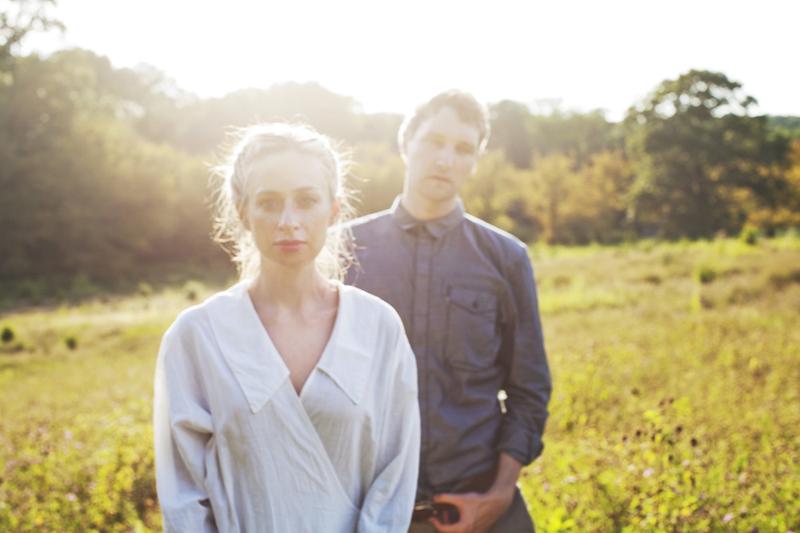 Hear the world premiere of Sarah Kirkland Snider's latest song-cycle for seven vocalists and chamber orchestra,"Unremembered," featuring vocal performances by DM Stith, Shara Worden and Padma Newsome along with the Orchestra for the Next Century. The work sets poetry by New-York-based poet/writer Nathaniel Bellows, recalling strange and beautiful happenings experienced during a childhood in rural Massachusetts.
"Unremembered" was inspired by a five-song collection, "Scenes from Unremembered" that Sarah Kirkland Snider wrote for the vocal octet Roomful of Teeth.  She further details in her notes on the piece how "the pastoral is belied by a subtle pathos as a houseguest takes sudden leave in the middle in the night, a boy makes a shocking discovery on the banks of a river, a girl disappears in woods behind a ranging farm, a swan meets its artless end -- all while the grouse fly and birdsong intones wordlessly through the fields."
PROGRAM # 3486, Sarah Kirkland Snider's "Unremembered"  (First aired on 7/9/2013)                                       
ARTIST(S)

RECORDING

CUT(S)

SOURCE

Sarah Kirkland Snider, Orchestra for the Next Century, conducted by Gary Schneider
featuring vocal performances by DM Stith, Shara Worden and Padma Newsome, members of Roomful of Teeth; Caroline Shaw, Martha Cluver, Avery Griffin, with Majel Connery and Elliot Cole

New Sounds Live at Ecstatic Music Festival, recorded at Merkin Hall, 2/6/13.

Sarah Kirkland Snider: Unremembered (2012) 
Words: Nathaniel Bellows

1. Prelude
2. The Estate
3. The Guest
4. The Girl
5. The Swan
6. The Witch
7. The River
8. The Orchard
9. The Speakers
10. The Song [45:26]

This performance not commercially available.
New Amsterdam has released the work on New Amsterdam Records  NWAM 067
newamsterdamrecords.com

Sarah Kirkland Snider's site is: sarahkirklandsnider.com
There's music from Sweden's Goran Kajfes, a Turkish trumpeter/composer who leads the new music-chamber-world-jazz-band called the Subtropic Arkestra. He stews Brazilian groove music and German psychedelic electronica together with a nod to Sun Ra's legendary cosmic jazz ensemble, and a dash of progressive jazz/rock as he takes on a Nigerian highlife tune from the 1970's. Then listen to Latin-Ethio-jazz music served up by the Family Atlantica, featuring Mulatu Astatke. Plus, minimalist-Mediterranean chamber-jazz from Fabrizio Bai, chamber-folk-jazz featuring accordion and tuba from the Belgian trio Massot-Florizoone-Horbaczewski, and so much more. 
PROGRAM # 3485, Music with Multiple Hyphens  (First aired on 7/3/2013)                                           
ARTIST(S)

RECORDING

CUT(S)

SOURCE

Quintet Naima

Feather of the Elephant

Aerobox, excerpt [1:30]

Goran Kajfes Subtropic Arkestra

The Reason Why, Vol. 16.

Okwukwe Na Nchekwube [8:50]

Headspin Recordings
headspinrecordings.com

Family Atlantica (w/Mulatu Astatke)

Family Atlantica

Escape To The Palenque [3:00]

Soundway Records sndw042
www.soundwayrecords.com

The Ex (with Brass Unbound)

Enormous Door

Belomi Benna [4:36]

Ex Records / In the Fishtank - #EX 138D www.theex.nl or Download from iTunes

Ale Møller & Bohuslän Big Band

Pegasus

Lanterna [6:17]

Prophone - #PCD 121
www.mdt.co.ukl or Download from Emusic.com

Fabrizio Bai

Etruscology

Banchetti d'oriente [7:29]

Dodicilune ED311
www.dodiciluneshop.it  
Info at http://www.youtube.com/watch?v=PU9Mq5RFdjg
Or download from Emusic.com, Amazon.com

Glenn Jones

My Garden State

The Vernal Pool, excerpt [1:00]

Thrill Jockey 326
www.thrilljockey.com

Quintet Naima

Feather of the Elephant

Aerobox [2:28]

Quartetto Minimo

Pomelö

Pomelö [7:33]

Massot-Florizoone-Horbaczewski

Balades Ephémères

Una Volta [3:50]

The Philip Glass Ensemble

A Retrospective (1 of 2)

The Upper Room: Dance 9, excerpt [1:00]

Orange Mountain Music 0067
www.orangemountainmusic.com