SchoolBook
Union Cites 'Exodus' of Experienced City Teachers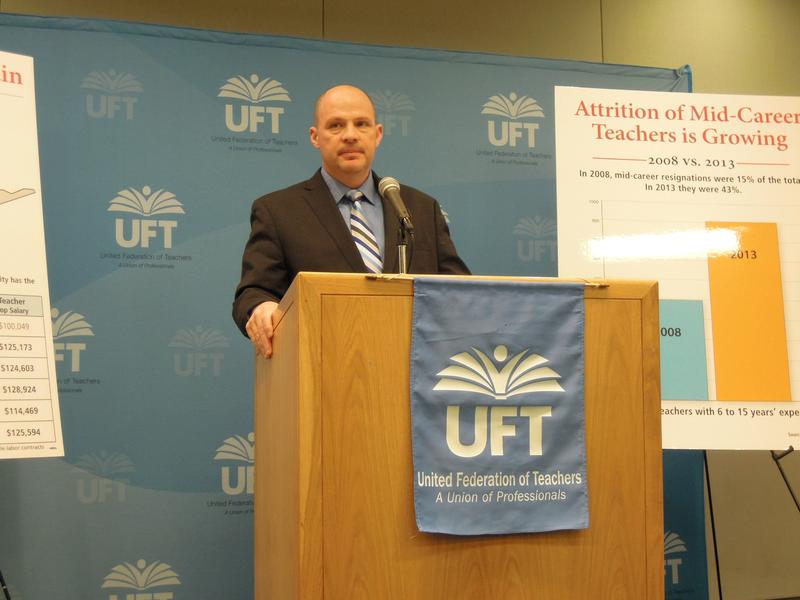 The city's teachers union has released its own grim analysis of teacher attrition rates in New York City, possibly a move to position itself for contract negotiations with Mayor Bill de Blasio.
The United Federation of Teachers analyzed Department of Education resignation data to find that more and more mid-career teachers were leaving the New York City school system, not including retirees.
In 2008, 15 percent of teachers with 6 to 15 years of experience made up the number of teachers that freely resigned, according to the union. By 2013, that number of mid-career teachers leaving the school system jumped to 43 percent. The union said the school system lost a total of 32,000 mid-career teachers over an 11-year period. 
Higher attrition rates are often associated with new teachers having less than five years of experience. Though, according to a report by the Independent Budget Office, new-teacher attrition rates are improving slightly.
Michael Mulgrew, president of the U.F.T. said the new trend of losing experienced teachers was troubling.
"And there's two main conditions that this is predicated upon: It's the working conditions and the wages," he said.
Mulgrew said teachers have increased paperwork burdens and less time for planning lessons along with lower wages, compared to many other suburban districts. He said that the union is seeking improved working conditions, pay raises and back pay in contract negotiations with the city. (A union caucus also released its own demands on Wednesday, including a call for changes to the teacher evaluation system.)
Mayor Bill de Blasio has acknowledged teacher retention as a problem, even calling teacher attrition rates "a crisis" in New York City.
Speaking at U.F.T. headquarters Wednesday, Mulgrew acknowledged that the teaching profession in general has changed over the last several years, such as principals taking on a greater role as instructional coaches and a shift to the Common Core learning standards. But he disputed that higher expectations in the profession would lead to experienced teachers leaving the city schools.
"Just because the profession is changing doesn't mean you should be losing this many teachers," he said.
Mulgrew pointed to teachers leaving the New York City schools for suburban districts with higher pay and smaller class sizes. Of the 32,000 teachers that left the city school system, the U.F.T. tracked 4,600 of them to suburban districts in New York State.