New Sounds
#3844: Under the Influence of Louis Andriessen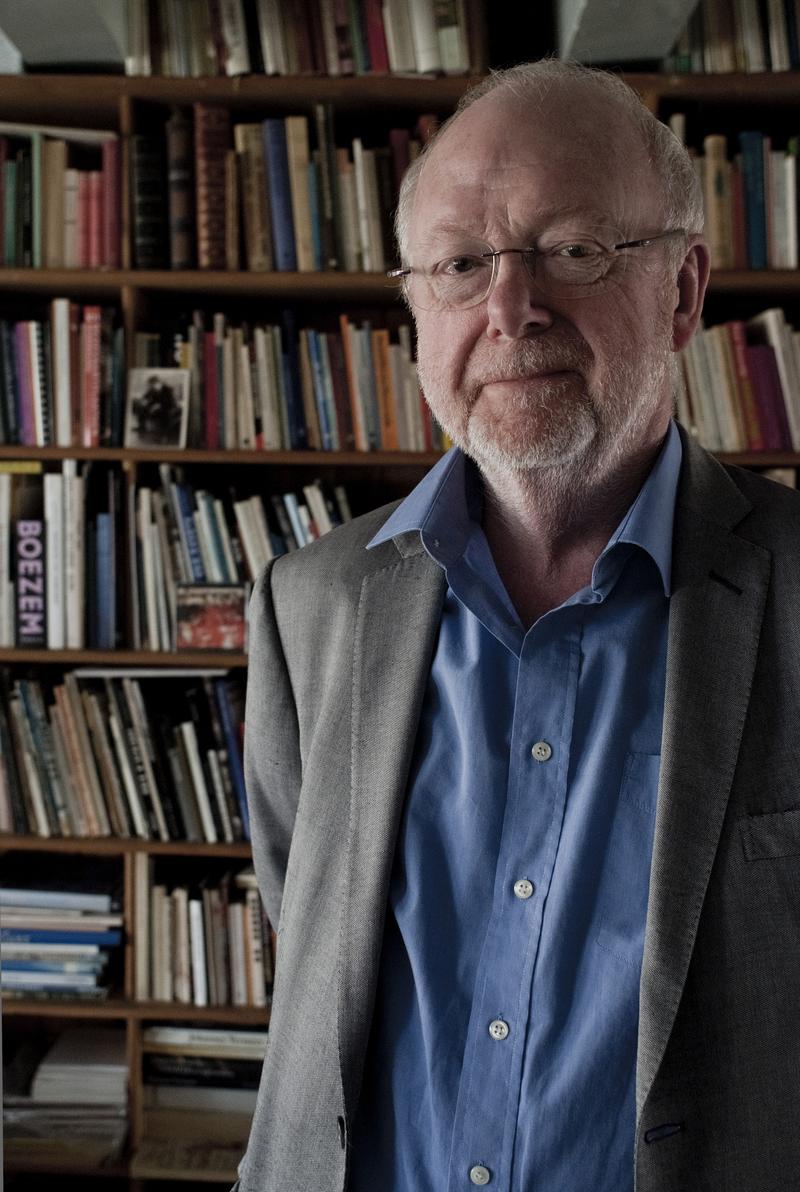 Hear music by influential Dutch composer/pianist and teacher Louis Andriessen on this edition of New Sounds. Andriessen's works dance around minimalism, shine with robust harmony, and are imbued with a certain "American style" which might sound like a bit like big band jazz (from Basie to Stan Kenton) meeting up with Stravinsky for an espresso (for propulsive purposes) with some chunky dissonances. His writing is not for conventional orchestra, which he considers an un-democratic way of making music – rather – his works are meant for musical collectives.
Andriessen is also a composer who concerns himself with big ideas, tackling complex & heavy creative issues like politics (De Staat), time (De Tijd,) as inspired by writings by St. Augustine, and geometry in the artwork of Piet Mondrian (De Stijl), which is part of a series of musical essays on the concept of matter (De Materie.) Listen to portions of some of those works by Andriessen on this edition of New Sounds.
A staging by director Heiner Goebbels of Andriessen's De Materie, featuring International Contemporary Ensemble (ICE), runs now until March 30 at the Park Avenue Armory in NYC. 
Then, there's Andriessen's profound influence as a teacher on composers in Europe and in America – as heard in works by Julia Wolfe, Missy Mazzoli, Nathan Michel (Hospitality), and the late English composer Steve Martland. Listen to a portion of Wolfe's Pulitzer Prize-winning work, "Anthracite Fields," inspired by mining communities of Pennsylvania. There's also music by Missy Mazzoli, her "Magic with Everyday Objects" for the NOW Ensemble. Hear a short work by composer, experimental electronic musician, and one third of the band Hospitality, Nathan Michel.  Plus, listen to music by the late English composer Steve Martland, who was something of a refugee from punk rock, and studied with Louis Andriessen before forming his own ensemble.  Also, hear an excerpt from Andriessen's "M is for Man, Music, Mozart," as well. 
PROGRAM #3844, Louis Andriessen: Under the Influence (First Aired 3-23-2016)
ARTIST: Schoenberg Ensemble, Reinbert de Leeuw, conductor
WORK: Louis Andriessen: De Staat, opening [7:59]
RECORDING: De Staat
SOURCE: Nonesuch 79251
INFO:   nonesuch.com
ARTIST: Bang on a Can All-Stars & Choir of Trinity Wall Street, cond. Julian Wachner
WORK: Julia Wolfe: Foundation, excerpt [7:35]
RECORDING: Anthracite Fields
SOURCE: Cantaloupe Music 21111
INFO: cantaloupemusic.com
ARTIST: Schoenberg Ensemble and Asko Ensemble Reinbert de Leeuw, conductor / Gertrude Thoma, voice
WORK: Louis Andriessen: De Materie, Part III: De Stijl, excerpt [11:19]
RECORDING: De Materie
SOURCE: Nonesuch 79367
INFO: nonesuch.com
ARTIST: NOW Ensemble
WORK: Missy Mazzoli: Magic with Everyday Objects [8:19]
RECORDING: Awake
SOURCE: NWAM0029
INFO: newamrecords.com
ARTIST: Nathan Michel
WORK: Nathan Michel: 082011 [2:46]
RECORDING: Morning Minutes
SOURCE: nathanmichel.bandcamp.com
ARTIST: Steve Martland Band
WORK: Martland: Principia [2:59]
RECORDING: Horses of Instruction
SOURCE: Black Box Classics
INFO: Out of print.  Try Amazon.com or auction sites.
ARTIST: Louis Andriessen
WORK: Instrumental I [4:30]
RECORDING: DeStijl/M Is for Man, Music, Mozart
SOURCE: Nonesuch 79342
INFO: nonesuch.com