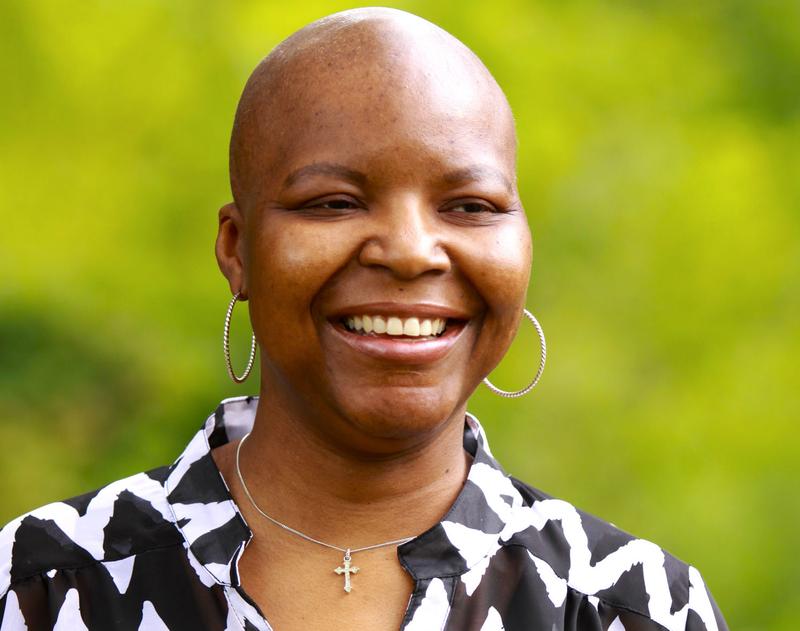 Over the past 30 years, researchers have found a widening survival divide between black and white women diagnosed with breast cancer in the United States. The Takeaway's series "Under Her Skin: Living With Breast Cancer" shares the stories of three African-American women coping with the disease.
Over the course of six months, we'll hear their thoughts and fears, their struggles and triumphs, as their audio diaries capture the realities of a disease that will afflict more than 12 percent of American women at some point in their lives.
We begin with Lisa Echols, who lives and works in Memphis, Tennessee, a city where the mortality rate for black women with breast cancer is twice that of white women.
But if you saw the 46-year-old mother of two on the streets of Memphis, you might never notice the weight of cancer that she carries.
"You would notice my smile and notice that I speak to everybody," says Echols. "Even at home I'm right there in the kitchen to either pour you a cup of coffee or ask you do you want a second cup, and if you saw me even to this day you would not look at me and that matter, at all."
But on the inside, under her skin, things aren't as rosy. After being diagnosed with breast cancer on December 9, 2013,  Lisa faced an onslaught of diagnoses and statistics.
"You're tumor is the size of a quarter," says Echols, recalling her doctors words. "I'm thinking you're between stage one and stage two. We can remove the tumor or we can remove the whole breast."
Lisa struggled to understand her diagnosis at first. "I was shocked... devastated because I knew that in the back of my mind I was doing all of the right stuff as far as eating right, a lot vegetables, a lot of fruit. So, like I said, it was hard for me because at that point I wanted to know: what did I do wrong? [...] After settling down I realized that it wasn't for me to figure out."
The Takeaway sat down with Lisa just before her decision to go ahead with that final option to remove her breast became a reality. Lisa spoke to us from her home in Memphis a little over a week before her bilateral mastectomy, the surgery that would remove both of her breasts in an effort to eradicate the cancer and to prevent it from coming back.
"We all go through tests in life, and this is my test," says Lisa. "At the end of passing my test, I will have a story to tell somebody."
Lisa's story is one we will be following for the next six months. To get involved in the conversation join our group on Facebook, Under Her Skin.