The Takeaway
Putin is Mentally Ill: Ukrainian Ambassador on Russia's Sick Leader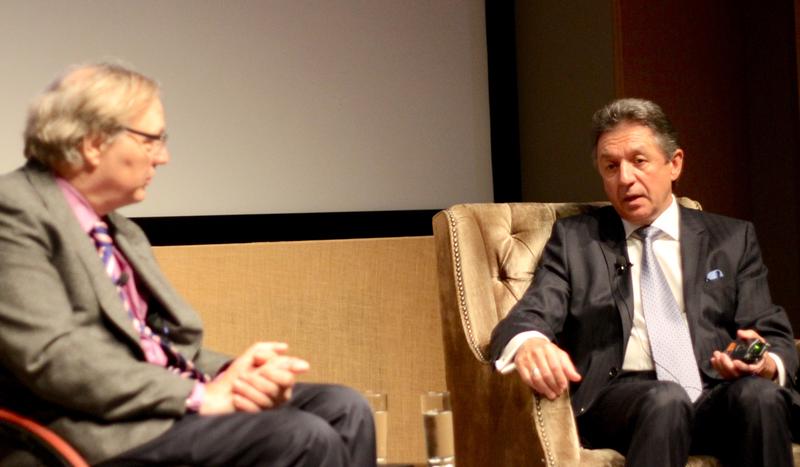 Takeaway Host John Hockenberry spoke with Yuriy Sergeyev, Ukrainian Ambassador to the United Nations, at the Core Club in New York City yesterday evening. Ambassador Sergeyev was confident in his country's ability to hold free and fair elections—even in the tumultuous east.
But the Ambassador went on to launch an astonishing attack on Russia's President Putin who, he said, displays signs of mental illness. Asked how President Obama should deal with the Russian premier, Mr. Sergeyev said he needed to be isolated or accepted as "a sick person." He also compared President Putin's leadership style to Syria's President Bashar al-Assad and Zimbabwe's controversial leader Robert Mugabe.
In this wide ranging interview, Ambassador Sergeyev discusses Ukraine's hope to find a roadmap to national unity, and the uncertain way forward ahead of the nation's national elections in just ten days.
John Hockenberry: Is Ukraine ready to hold elections, and can they be free and fair?
Yuriy Sergeyev: We have 25 regions, and elections should be in all of them. But according the Constitution and the law of the elections, they should be in no less than 50-plus percent of the regions. That means if we manage to have a majority of these regions [participating] in elections, they will be accepted by Europe. The Central Electoral Commission has stated that they are ready in all 23 regions, 100 percent. In two rebelling regions, in Donetsk they have only, for the time being, 40 percent of prepared polling stations, and in Luhansk they have half of the polling stations prepared. 
The local governors, they stated that in Donestk, they can't organize the election process in only one town of Slaviansk, where separatists are strong. So if we manage to have, broadly, with some exceptions in some of the towns in the east, we could have [elections]. We have 20 candidates, some of them are from that region. It means that people have a right to express their will of who they want. Naturally, the different bodies organizing the public opinion surveys, what they're bringing to our knowledge, the radicals from the right and from the left, they are not supported.
This is what Russia kept and keeps saying—that, 'Look, the right-wing fascists will come.' But the right-wing parties have less than one percent now, so they are not supported, even in the regions where they have majorities in the local councils. If we organize the exit polls, if we have the amount of the international observers who already signed up to be, only from the OECD countries, 500 to come, we could organize fair and transparent elections.
Hockenberry: If I could ask you about one more charge from the Russians, it was reported by a leader of the United Russia Party, a close associate of Vladimir Putin's, that it is only the West that wants an Eastern Ukraine-Russian war. What's your response to that?
Sergeyev: I am not a psychiatrist. The idea of Putin is of a maniac idea. He is moving strongly within this idea, and that's why it is very difficult to [communicate with Russia]. On one hand, they want to return to the role of a world power, but they are not a world power because of their economic weakness. That's why they're threatening the world—they're trying to use their old reserves, like Syria. They forced Syria to follow what they invented for Syria. They brought others to negotiate together around Syria. So why is Russia reacting in a very strange and non-peaceful [with] Syria? 
World partners recognize that. That's why if the world players are capable to predict the next step of Putin, it could create global control over what he's doing. At least isolation for him is painful because he prefers himself as one of the big leaders in the G7 and G8. He was gently thrown out and he became nervous about that. So this is a kind of preventive step to stop his maniacal ideas to develop.
Hockenberry: Just to clarify, the position of the Ukrainian Ambassador to the United Nations is that Vladimir Putin is a maniac? 
Sergeyev: His position, what he's doing, makes us treat him like he has a serious disease. 
Hockenberry: So how would you advise President Barack Obama to confront someone who is, in your view, mentally unstable?
Sergeyev: Accept the sick person as a sick person, and either treat him or do something to isolate him from the normal people. Isolation arrived. The global isolation arrived—he has in his company the same people from the same treatment house. He has Sudan, he has Syria—Syria was the first to support the annexation of Crimea. He has Zimbabwe, a big world leader with the same behavior in Africa. This is the surroundings of him, of people of the same mentality. They are not sharing human values, and that's why they are to be treated as inhuman.
To make the preventive steps and to stop him through economic sanctions, this has started but is still not so efficient to stop him totally and to come back. This is a good treatment. Now they are looking for a way out of the problems that have appeared. Some of them, they lost their assets in Europe and their families lost the privilege to study in the universities and schools. These [are] small remedies; small medicine could be helpful. 
Check out some more photos from the event below.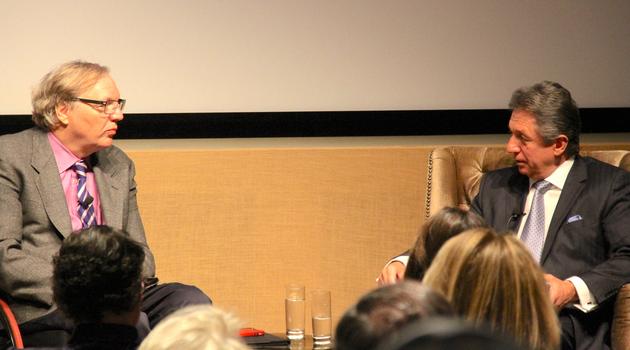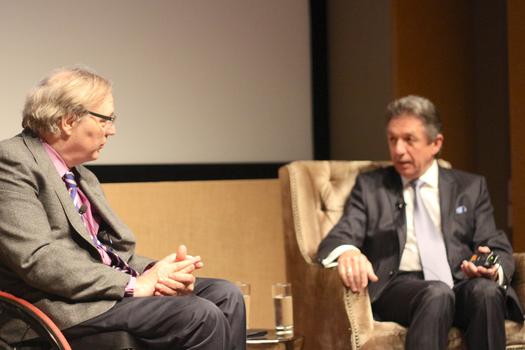 of