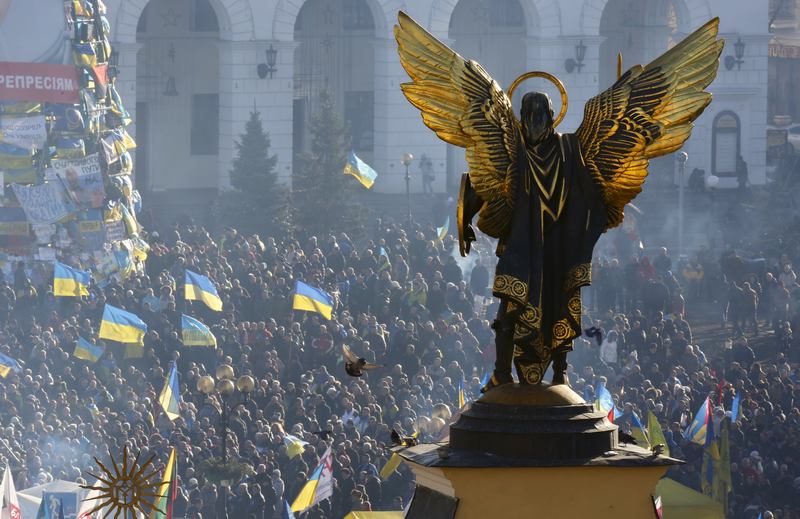 Click on the 'Listen' button above to hear this interview.

The demise of the Soviet Union solved some problems and created others in Eastern Europe. Ukraine, for example, subsequently endured years of corruption, violence, poverty, and Russian aggression. These issues led to protests, which came to a violent head in early 2014. Sophie Pinkham was there, and captured the conflict in Ukraine in her new book, "Black Square: Adventures in Post-Soviet Ukraine," which is out today. 
Pinkham, a writer specializing in Russian and Ukrainian culture and politics, spent 10 years reporting in and around Russia and Ukraine. Her book covers the Ukrainian or Maidan revolution of 2013-14, Russia's annexation of Crimea, and the ensuing war in eastern Ukraine.
She told this story of geo-political conflict and revolution through the people affected by it most — like a pro-democracy doctor who struggles with drug addiction, an art gallerist prone to public nudity, and a clarinetist agitating for Ukrainian liberation.
By describing these various personalities, she describes the geo politics of Ukraine in terms of dreams that were pursued, relationships that crumbled, and a bevy of questionable heroes and villains.
"I think that the western media has been a very simplistic understanding of what is going on Ukraine. Too often in the media, it has been depicted has hero and villian; authoritarian superpower vs European underdog," Pinkham says.