The Takeaway
How the NRA Twisted Gun Science and Silenced Researchers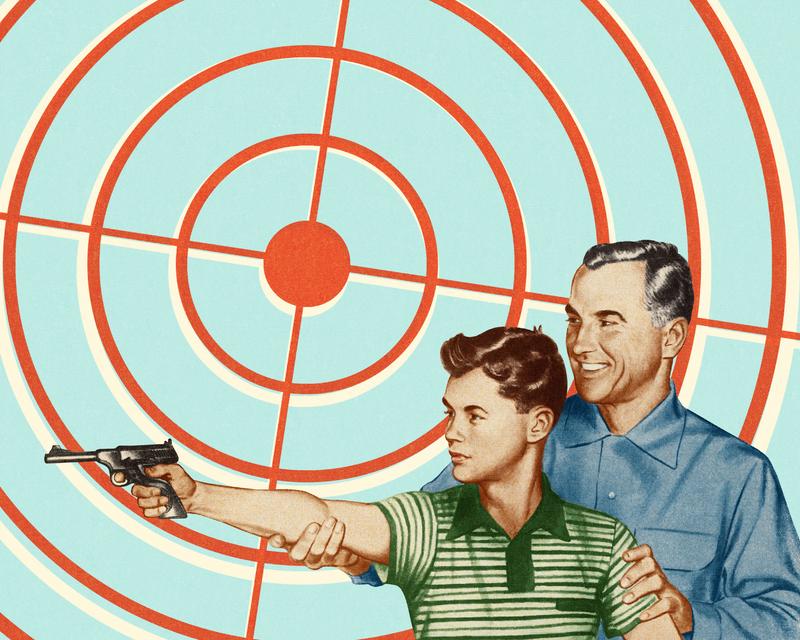 Click on the 'Listen' button above to hear the full interview.
Back in the early '90s, the Centers for Disease Control and Prevention (CDC) and the National Center for Injury Prevention and Control provided funding for studies on gun violence—something the National Rifle Association found highly objectionable and quickly worked to cover up.
Dr. Fred Rivara, a professor of Pediatrics and Epidemiology at the University of Washington at Seattle Children's Hospital, has been involved with injury research for 30 years. He was part of the team that researched gun violence, and he personally saw the chilling effects of the NRA's lobbying arm.
"We looked at homes where a homicide had occurred, and also went to homes in the neighborhood around the block where there was no homicide," says Rivera of his gun research from the 1990s. "We sent out experienced interviewers and asked a series of questions, including whether or not there was a gun in the home."
From this research, Rivara and his team discovered that having a gun in the home is associated with a threefold increase in the risk of a homicide.
"The most common reason that people have a gun is because they have it for home protection," he says. "Unfortunately, the data indicates that having a gun is associated with both an increased risk of homicide, but even more importantly, an increased risk of suicide. We know that, for example, if there's a gun in the home, the risk of suicide among adolescents and young adults increases tenfold."
Back in 1993, Rivara and his colleagues released this information in a series of articles that appeared in the New England Journal of Medicine—one of the most highly respected medical journals in the world. Shortly after, the NRA went after not just the research, but Rivara and his colleagues.
"[Our research] underwent peer review and was thought to be very solid and worthwhile research," Rivara says. "The CDC stood by our research—they had funded it and they stood by it. Unfortunately, it raised the attention of the National Rifle Association, who then worked with pro-gun members of Congress to essentially stop funding firearm research."
Rivara says that 10 pro-gun senators worked to get the ear of Arlen Specter, then a senator representing Pennsylvania and chair of the Health and Human Services Committee.
"[Specter] approached the Centers for Disease and Control and discussed the idea that this research was biased," says Rivara. Congress "ended up cutting the CDC budget by the exact amount of money that was used to fund the gun research. They had first threatened to cut all of the funding for injury research at the CDC. They didn't do that, but they ended up cutting it by the exact amount that was spent on gun research."
He continues: "More importantly, however, was that they put a clause for the appropriations of the CDC that essentially blocked all gun research for the next two decades."
After the CDC was hit with budget cuts, many were afraid to even pursue subjects related to gun research. Dr. Arthur Kellerman, Rivara's colleague that also worked on the original research that appeared in the New England Journal of Medicine, stated in a December 2012 article in the Journal of the American Medical Association that "no federal employee was willing to risk his or her career or the agency's funding to find out" if any gun research could be done. He continued, writing that "extramural support for firearm injury prevention research quickly dried up."
"Many, many people stopped doing gun research," says Rivara. "The number of publications on firearm violence also decreased dramatically. Personally, it was a frightening time. I can remember back in those days, 20 years ago, that we were really frightened about what was going to happen to our injury research program and what was going to happen to us personally, because it did feel like a personal attack."
In 1991, the NRA wrote to the National Institutes of Health (NIH) to request that the Office of Scientific Integrity review the research published by Rivara, Kellerman and their colleagues.
"That's a big deal," says Rivara. "There's only two or three of these that are done each year, and it's basically questioning our credentials as scientists and saying that we had lied or falsified our research. Fortunately, the NIH did not find any basis for that and the CDC backed us up. But it was really chilling in terms of our ability to conduct research on this very important problem."
While being personally vilified by the NRA was frightening, Rivara says there was some positive to come out of it.
"It was also good because it told us that were doing important work," he says.