The Takeaway
Can New Web Reality Experience Promote Empathy for the Homeless?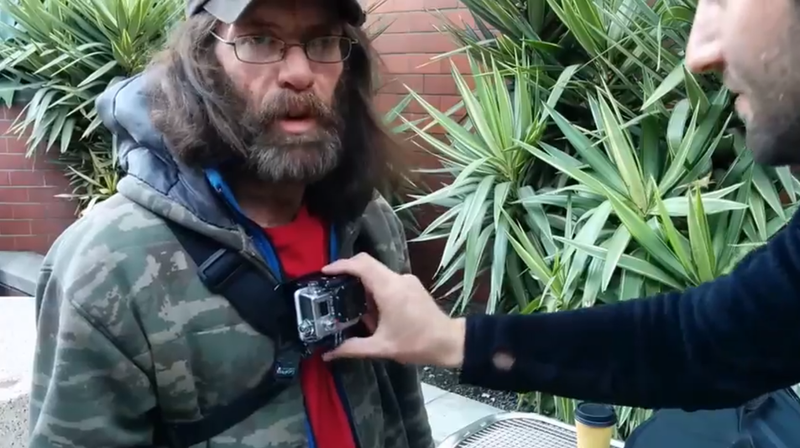 According to the federal Department of Housing and Urban Development, New York City and San Francisco have nearly the same proportion of homeless residents: About eight percent of each city's population in 2013.
But in most California cities, homelessness is often more visible than on the East Coast. In San Francisco, more than 61 percent of the homeless population is considered unsheltered. In New York, that number is just five percent.
San Francisco has seen dramatic changes over the last few years. The tech boom has driven up the cost of living, and as rents skyrocket, some longtime San Franciscans have charged that the city's newcomers have a lack empathy for well-established residents, including the homeless.
Kevin Adler hopes to change that. His Homeless GoPro project does exactly what the name suggests—he gives portable GoPro Cameras to homeless citizen volunteers to document their experiences for all to watch on the web. 
While Adler's project has already attracted critics, who argue that a camera hardly addresses the needs of homeless residents, he's also found a friend and ally of the project in his first volunteer, Adam Reichart, who has been homeless in San Francisco for six years.
"It's almost like doing a social experiment where you get to learn a lot about people's behavior," says Reichart of the project. "I've noticed, especially over the last two or three years, that people are really starting to lose their empathy and compassion towards humanity, not just with homeless but in general."
For Adler, the images and videos that Homeless GoPro provides can engage society's sense of empathy.
"Empathy is a very powerful force," says Adler. "It's a way to have a more established, shared concept of human dignity, which I think is important for all of the other types of service organizations that do provide the essential homes, shelters and food and other indispensable needs of homeless individuals."
Alder says that while many young people already utilize accessible documenting technologies likes mobile phones or digital cameras, homeless populations are often excluded from our selfie-driven culture. 
"Homeless individuals have their own lives and we don't yet have a great snapshot of what their daily experiences and interactions are," says Adler. "The idea is to use a little bit of technology to extend that and empower their voices and share their stories."
While some may view the project as exploitive, Alder says that the project comes out of his own personal experience.
"My Uncle Mark was homeless for 30 years and he lived on and off the streets," he says. "He had schizophrenia, and he died about 10 years ago. He was found by himself in a halfway house, so I think empathy is a pretty good thing to build everywhere. Certainly in the kind of divisive environment in which we're in with the debate around tech workers and affordable housing, we're not wanting to be on either side of the debate. We're all people, we're all in this together, we're one city, and this is a way to help better connect the city through a little bit of empathy and a little bit of technology."
When it comes to affordable housing, Reichart agrees that tech workers in San Francisco do drive up prices and make it more difficult for people like him to find a place to reside.
"I just had some medical procedures done this week and I had to get a place so I wanted to rent a hotel for a week," says Reichart. "It cost me $350 for a week in a room with no toilet, no sink, and no shower. The same room three to five years ago would've $100 or $150."
Though the experiment just began, it seems to be yielding positive results already. Earlier this month, the San Francisco Chronicle reported on the Homeless GoPro project, which has been increasing awareness locally of the circumstances currently facing Reichart. 
"I'll refer to something Adam told me after the first San Francisco Chronicle article ran," says Adler. "He said, 'The money has increased a little, but the humanity has increased a lot. It's lifting my spirits, and making me want to better myself.' He estimated that 75 to 100 people over the last few days have recognized him, expressed appreciation for what he's doing, and said, 'Adam, I've seen you here for years but I haven't had a better sense of who you are and your back story.'"
Reichart says that people have reached out to him with positive affirmations and said that work he is doing with Homeless GoPro has inspired them.
"If I could just touch one person's life out of all this, it will make me satisfied that I did something with this project," says Reichart. "One guy said he was going to volunteer at a homeless place in Germany, and another guy said he was going to volunteer locally here. That makes me feel good in my heart about this whole project. I feel like, to a point, we've already accomplished a little bit of something."
While Reichart says he wants to get off the streets, the project is also an important tool to raise awareness.
"I want to be able to wake up a lot of people and make them see what it's really like out here," says Reichart. "It's not all fun and games."
Listen to the full interview for more discussion from Adler and Reichart.