Trust and Betrayal on Trial as Bridgegate Case Goes to Jury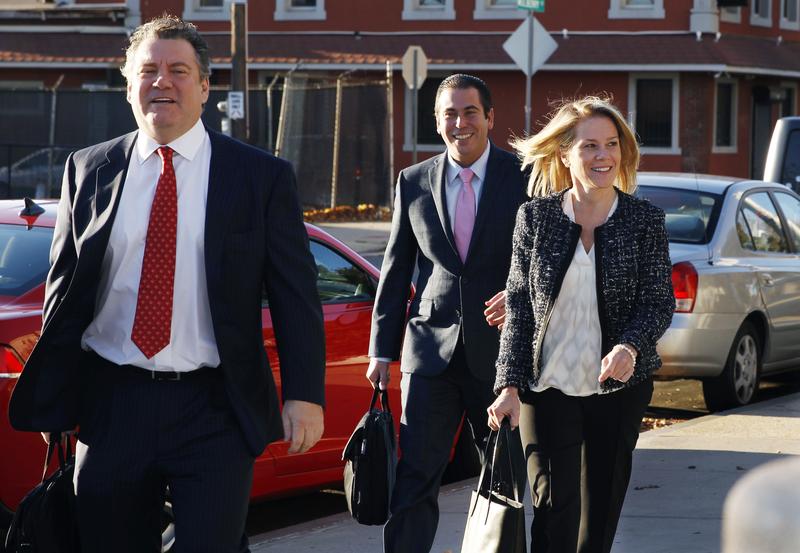 It's all up to the jury now in the Bridgegate case. 
Ostensibly the jury will have to decide if Bill Baroni and Bridget Kelly, two former high-level employees of New Jersey Gov. Chris Christie, conspired to misuse government resources in a scheme to punish a Democratic mayor who hadn't endorsed the governor's reelection. 
But the looming subtext is this: How is it fair that Kelly and Baroni are sitting at the defense table in the Newark courtroom, while Chris Christie is running the presidential transition team for Donald Trump?
In his summations, Kelly's attorney, Michael Critchley, projected a picture on a screen of Christie together with David Wildstein, the admitted conspirator cooperating with the prosecution — a picture that Wildstein himself called "the adoring photo."
"He's an intimidator of people, he manipulates people and situations," Critchley said. He was referring to Wildstein, but the subtext was that Kelly's boss, Christie, also fit the description. "He created a culture of fear. You are with him or against him. He's a tyrant, he's a malicious person, he intimidated female professionals."
At one point, Critchley thundered, Christie was "a coward—a coward!" for lying about his role and leaving Kelly to hold "a steaming bag."
"Christie —where are you?" Critchley demanded. 
In six weeks of testimony, Kelly, Baroni, and Wildstein have lifted the curtain on a devastating portrait of the Christie Administration, where a fanatical loyalty was demanded from all comers, and anyone who didn't cooperate risked their jobs, their livelihoods and their reputations.
There was testimony about how Christie ordered Baroni to tell a union official who had criticized the governor on the radio: "Tell Bill Lavin to go f*** himself." When Baroni demurred, according to his testimony, Christie said: "You like your job?" There was also testimony that Christie, displeased with a debriefing Kelly had given him on a presentation to local officials and business owners, threw a water bottle at her and asked: "What do you think I am, a f***ing game show host?"
And there was the Republican freeholder from Monmouth County who felt the wrath of Christie, according to testimony, when the governor heard the freeholder had the gall to call him names behind his back.
Christie phoned the freeholder and said: "Who do you think you are — calling me a fat f***?" He continued: "I am the f***ing governor of New Jersey. If you are not at the f***ing podium tomorrow I will f***ing destroy you!"
Going along with such behavior, prosecutors acknowledge, landed Kelly and Baroni in the courtroom. "Bill Baroni, Bridget Kelly and David Wildstein shared an intense commitment to the political success of Gov. Chris Christie," prosecutor Lee Cortes said in his summation to the jury.
"They saw themselves as his loyal lieutenants who were free to use their government jobs to launch political attacks, and who never attempted to separate politics from their jobs in public service."
In the Bridgegate trial, it has become clear that politics under the guise of public service wasn't just a culture created by Christie, it was demanded by Chris Christie himself. Consider testimony that Christie, in the presence of two witnesses, met personally with Wildstein and ordered him to have the Port Authority hire Passaic County Sheriff Jerry Speziale, so Christie could appoint his own person as sheriff.
Or testimony that Christie sat with Wildstein with a "red light/green light" list of Port Authority appointees that he wanted fired. Or testimony that Christie personally ordered that Jersey City Mayor Steve Fulop be "iced out" — to have his meetings with the administration canceled after Fulop didn't endorse Christie's reelection.
"Nobody is entitled to a f***ing meeting," Christie allegedly said. 
Finally, defense lawyers say that Christie personally approved the closures of two lanes to the George Washington Bridge before Kelly wrote her infamous "time for some traffic problems in Fort Lee" email.
They also say that Christie discussed the closures with Baroni and Wildstein at a memorial service for the World Trade Center on September 11, 2013 — the third day of the closures — and that Christie, personally, was told during the closures about complaints by the mayor of Fort Lee that public safety was affected. (Christie's response, according to Kelly: "Let Wildstein handle it.") 
Even so, prosecutors argued, this does not absolve Kelly and Baroni. "They are trying to distract you," Vikas Khanna said in his rebuttal. "This case is not about anybody else."
"If something is obvious, you can't avoid criminal responsibility by closing your eyes," said Khanna. "The evidence is as it appears to be," he said, referring to the emails like "Time for some traffic problems in Fort Lee."
But three close Christie allies, still his close allies, testified they discussed with him various aspects of his staff knowledge of the lane closures prior to Christie's vehement, repeated, and continuing denials of that very fact.
And testimony of Christie's top aides, including his former press secretary Mike Drewniak, undermined Christie's argument that he barely paid attention to burgeoning investigations. The defense says, implicitly, this is because Christie's top men, all of them former federal prosecutors like Christie himself, understood full well any serious investigation would lead back to Christie.
In the end, both sides said, it's about who you trust. 
"Bill Baroni trusted David Wildstein," Baroni's defense attorney, Michael Baldassare, told the jury. "The government wants you to think that trust is like math. You trusted him then, you can't get fooled by him now. But we all know, trust is an intimate and human emotion and it doesn't work like that. You can be betrayed by someone you knew for years. Bill Baroni trusted David Wildstein and it put him there. And all I'm asking you is please don't make the same mistake. Don't trust him."
Left unsaid: they all also trusted Chris Christie.