Trump's Surprising Embrace of 'Government Sachs'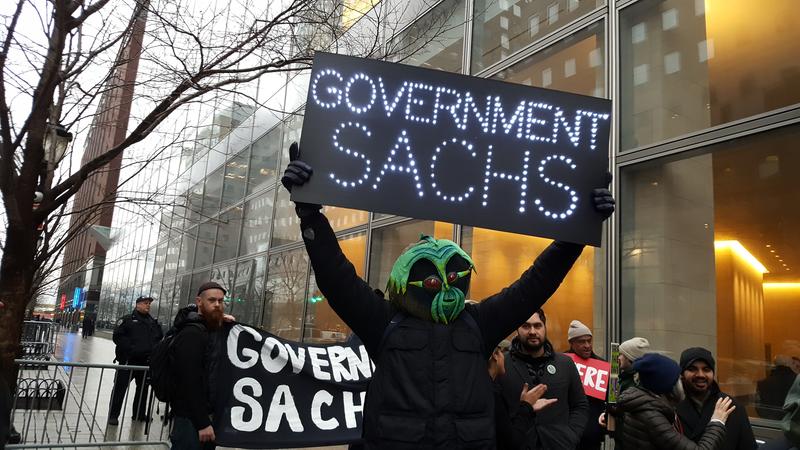 After being elected President, Donald Trump surprised many of his supporters by selecting six people who have worked with or for Goldman Sachs for top jobs in his administration. During the campaign, Trump had been critical of Wall Street banks and Goldman in particular. But now, Trump has the ultimate Goldman insider advising him on the economy.
His name is Gary Cohn, and until last December, he was the President of Goldman Sachs, the number two person at the bank. Cohn waited so long to be boss, the New York Times once compared him to Prince Charles.
But unlike the English prince - and unlike Donald Trump - Gary Cohn pulled himself up from humble beginnings.
In an exit interview Cohn recently recorded for the Goldman Sachs podcast, Cohn recounted his childhood struggles with dyslexia. Book-learning was hard, but he gained self-confidence working in his grandparents' electrical supply warehouse which was filled with thousands of parts.
Many people have read Cohn's story. It's in the bestselling book "David and Goliath" by Malcolm Gladwell. Still, Cohn has attracted less attention than some of the other Goldmanites chosen to work in the new Trump administration. At a recent rally outside Goldman Sachs headquarters, protesters chanted the names of Steven Mnuchin, Trump's choice for Treasury Secretary, and Steve Bannon, his chief strategist, but didn't mention Cohn, who worked longer at the bank, and rose higher.
William Cohan is the author of a history of Goldman Sachs called "Money and Power:  How Goldman Sachs Came to Rule the World." He said there's an episode from Gary Cohn's leadership at the bank that deserves special attention. Back in mid-2006, a small number of traders at Goldman started to quietly buy securities that would pay out if the housing market declined. The bet started small, but it grew over the course of about a year; on the other side were other financial institutions, like AIG and Bear Stearns. These firms bought the conventional wisdom that said housing prices would never fall. When real estate crashed, they did too. And Goldman's secret strategy looked very smart.
"Goldman had just completely snookered other firms, Bear Stearns and Merrill Lynch and even AIG," Cohan said. "It was just an extraordinary performance whether it was completely planned or not, it worked out incredibly well for Goldman Sachs."
The taxpayer bailout of AIG cost more than $180 billion with $13 billion going straight to Goldman Sachs — the bank was paid 100 cents on the dollar, even in the middle of a financial crisis.
In 2010, Goldman sent Gary Cohn to answer questions about all this, before the Financial Crisis Inquiry Commission. Emails showed Cohn approved of the strategy to short the market. Even though it destabilized other institutions. Cohn's response: this was the smart thing to do.
"We were managing our credit risk, as well as market risk with them, as prudently as we knew how," Cohn told commissioners.
Last year, a new risk emerged: A presidential candidate who had a lot of negative things to say about Wall Street and Goldman Sachs. Trump talked about the bank like it was "cooties," and Hillary Clinton had it.
"I would imagine she made very positive statements towards Goldman Sachs," Trump told Sean Hannity on his show. "She wants their money."
Within days of the election, current and former Goldman people were already making nice with the President-elect.
"It's really stunning how quickly the Goldman crowd is coming around to wanting to sit on Donald Trump's lap and tell him how wonderful he is," Cohan said.
Call it smart risk management: In the weeks after Donald Trump's victory, Goldman Sachs emerged as the best performing stock in the Dow Jones index.