Trump's Orders Spawn Fake Alerts—and Fear—for Immigrants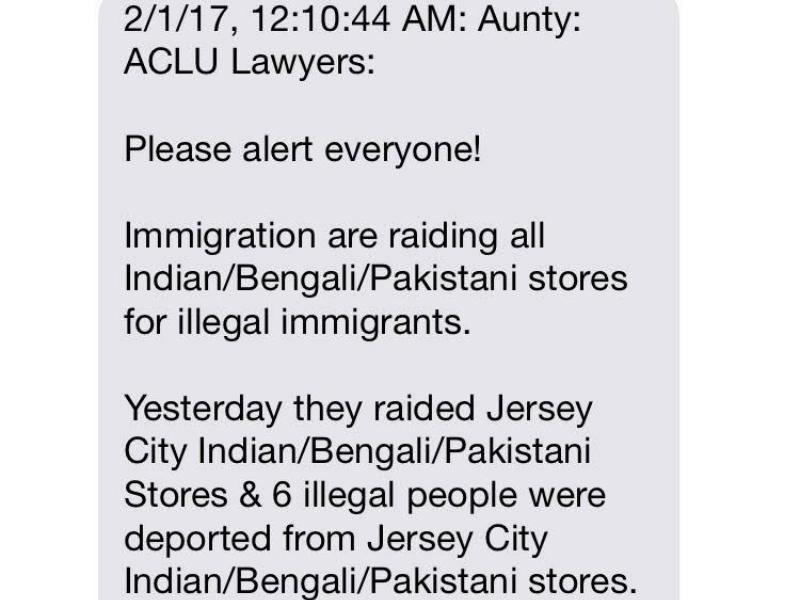 Fake alerts, spread by email and social media, are generating confusion and fear in immigrant communities, even those not affected by President Trump's executive order banning travel from seven Muslim-majority nations.
The executive order is currently suspended, pending an appellate court's ruling. Meanwhile, attorneys, journalists and immigrant rights advocates in Asian-American, South Asian and Latino populations are countering countless rumors and misinformation.
"There's been a lot of panic in the community," said Sujeet Rajan, the executive editor of News India Times, based in Manhattan. "Nobody knows what's going on."
He cited a series of false messages spread via What's App, including some that referred to Indian supermarkets in Edison, New Jersey. One read, "Anyone going in and out of Sabzi Mandi and Patel Brothers were asked to show proof of legal status," while another suggested that stores were being raided by federal immigration authorities. 
Rajan contacted the stores for an article. 
"And employees there and a manager confirmed that none of this had actually happened," he said. "All this was absolutely false."
Something similar is playing out in the Latino community. Mariana, who asked that her last name not be used, is a Venezuelan-born musician who lives in Brooklyn. She's here on an O-1 Visa.
"It's just this general wave of panic," she said.
One rumor making the rounds, she said, is that there's a second list of banned countries in circulation, a secret list, and that Venezuela's on it. 
Just to be clear, there isn't such a list, but Mariana said the misinformation isn't only being spread by individuals, but by businesses too. One friend of hers, who's also from Venezuela, works at a Mexican-owned business in Manhattan with other Latinos. The company circulated a message advising employees to avoid all travel, even domestic travel.
It also told its employees to scrub all their social media accounts and disable the fingerprint unlock on their phones. If traveling, the company said prepare for questions like "How do you feel about President Trump?" and when answering, "be creative in your positive responses."
For immigration attorneys like Michael Wildes, the uncertainty has translated into an explosion of panicked phone calls.
"It's triple my normal calls," said Wildes. "I would get about 50 new matters a day. I'm averaging about 150 inquiries a day."
Wildes, a former federal prosecutor, said many of his corporate clients are now devoting resources to managing the chaos.
"Every firm has somebody at an airport, or a client that's concerned, or somebody stuck abroad. It's the new normal right now," he said. "We hope the administration will step up and make sure they do proper vetting and not something that alarms the community."
New Yorkers in the country illegally are also dealing with widespread rumors. Natalia Aristizabal, lead organizer at the immigrant advocacy group Make the Road, in Queens, said members regularly ask her about supposed immigration raids.
"Usually it gets to 'Somebody told somebody told somebody,' a little bit of a chain like that. And so I have to then tell community members, 'We haven't heard anything, and you need to relax and know your rights.' Because that's going to be our main tool of defense."
Cathy Dang, with the group CAAAV Organizing Asian Communities said the rumors of raids can be pretty specific: for instance, that Chinatown buses are being stopped between New York and South Carolina, either by the NYPD or federal immigration officials. This was being circulated via We Chat.
NYPD spokesman J. Peter Donald even tweeted about this last week, "There is zero truth to this. I repeat: zero."
For Dang and the others, it's hard to say how the rumors start. As a joke? Out of malice? But she said the net effect is the same: people in these communities are exhausted trying to separate truth from fiction.
"They want to tire us out," she said, referring to members of the Trump administration, conservatives and anyone else fighting to limit immigration into the country. "So it's important that we stay steadfast and follow through on what we know is actually true and not also have to react to things that are not true."