President-Elect Trump, Mayor De Blasio Talk Immigration, Steve Bannon in One-On-One Meeting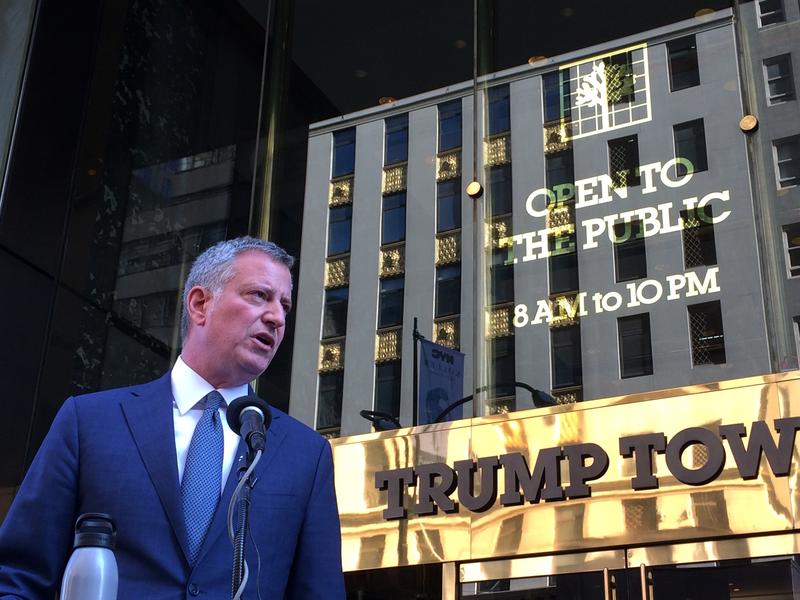 President-elect Donald Trump met with New York City Mayor Bill de Blasio for just over an hour Wednesday at Trump Tower in midtown Manhattan. The pair met alone -- without aides -- in real estate mogul's 26th floor office.
The city's top Democrat was an outspoken critic of Trump's campaign and backed Democrat Hillary Clinton for president. Since Trump won the election, the mayor has struck an increasingly forceful tone — reiterating his plans to work with the president-elect on issues like infrastructure, yet vowing to oppose any policies that would undermine his view of New York values.
After the meeting, the mayor addressed reporters standing within the tightly secured perimeter in front of Trump Tower. De Blasio said he met with Trump to "assert the needs and concerns" of city residents, especially in communities where people fear his policies will target them.
"I tried to express to him how much fear there is," said de Blasio. "How much fear there is in communities all over this city. A whole range of people in the biggest city in the country who are fearful about this current dynamic and how we need to see things that will give people more assurance that all New Yorkers and all Americans will be respected."
De Blasio said he relayed his opposition to repealing of the Dodd-Frank bill, financial reform legislation passed in response to the 2008 financial crisis, "and the deep concern that we'd go backwards and our economy would be in peril again and we'd run the risk of another crash."
The mayor said he also told Trump he opposed tax cuts for corporations and the wealthy in part because it could inhibit investment in infrastructure.  
Another topic of discussion: the proposed deportation of people who are in living in the country illegally. "I gave him the perspective of the NYPD that any initiative that would create rift between our police anywhere in the country and the communities they serve ... that would sow distrust between law enforcement and neighborhoods, would be counter-productive."
Even as the Trump transition team unfolds, the mayor said they did not talk about what role former Mayor Rudolph Giuliani may play in the new administration. But the mayor did say he talked to the president-elect about the selection of Steve Bannon, founder of the extremist website Breitbart News, as his senior adviser.
The mayor would not characterize Trump's response to the meeting, but he did say neither of them changed their fundamental beliefs.
De Blasio said the meeting ended with a commitment for ongoing dialogue between the city and president-elect, who he said offered his appreciation for the security provided by the NYPD.
Currently, East 56th street between Fifth and Madison avenues is completely shut down by the NYPD.
The mayor said he and Police Commissioner James O'Neill will be addressing traffic and security issues at a press event on Friday.
Asked whether they talked about how Trump Tower security was impacting neighboring retail stores, "I will not tell you that Gucci and Tiffany's are my central concerns in life," the mayor said, "but I will say the traffic concerns are a real problem and those problems are magnified because we are going into the holidays."