The Takeaway
Trump Begins Dismantling Obama's Economic Legacy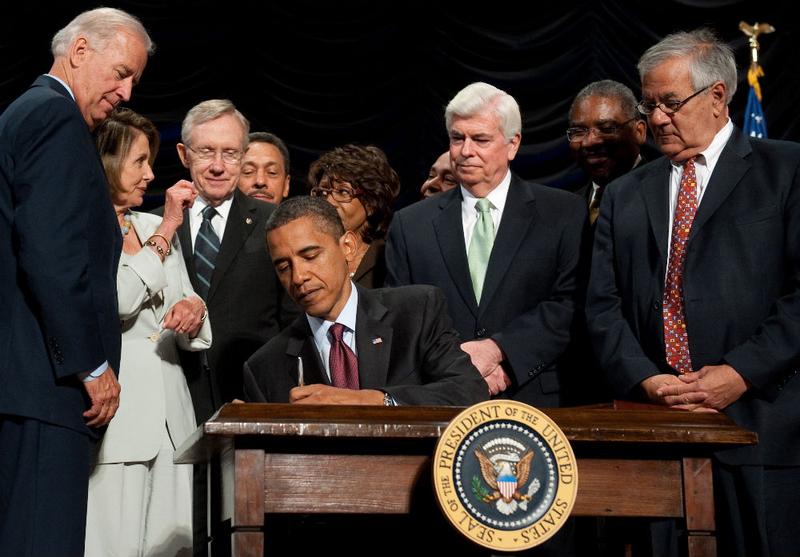 President Donald Trump set the ball rolling to repeal major components of the Obama administration's economic policy. The executive order signed by the president on Friday did not directly impact existing financial regulations, but it did call for a review of the 2010 Dodd-Frank Act. That law, designed to prevent a repeat of the 2008 financial crisis, has been a major target of the Trump administration. Trump has called it "a disaster" and believes that eliminating regulations on bank lending will bolster the economy.
One person who does not see the law as a failure is former Massachusetts congressman Barney Frank. Frank was one of the primary sponsors of the Dodd-Frank Act, and he believes that the legislation has properly regulated the private sector without putting job growth at risk. 
"We did away with these subprime predatory loans...that were a major cause of the crisis," Rep. Frank told Takeaway fill-in host Todd Zwillich. "Not because we don't like poor people, but because we don't think it's good for either them or the economy if you give them loans that they can't pay off." 
Critics say the regulations are too restrictive and prevent banks from loaning money, a claim Frank took issue with. 
"It's important to note that this claim that what they're trying to do is promote all loans is actually the opposite of what they're doing," Frank said.  
House Republicans are also going after the Cardin-Lugar Amendment, a part of the Dodd-Frank Act, which requires oil, gas and mining companies to disclose to the public any payments they make to foreign governments on natural resource extraction. The rule, which had bi-partisan support, does not restrict whether companies can do business in these countries. 
"This was an anti-corruption thing," Rep. Frank said. "I don't understand why the Republicans felt like they needed to come to the aid of people who wanted to be able to bribe public officials in countries to make themselves rich and not let the people in those countries know it." 
In addition to rolling back Dodd-Frank, President Trump also signed an executive order aimed at eliminating the fiduciary rule, a rule that requires brokers and financial advisors to act in their client's best interests, not their own financial interest, when giving retirement advice. 
Click the "listen" button above to hear Rep. Barney Frank talk about the implications of rolling back Dodd-Frank, his landmark regulatory bill.