The Takeaway
As Trial Comes to Close, An Uncertain Future For Al Jazeera Journalists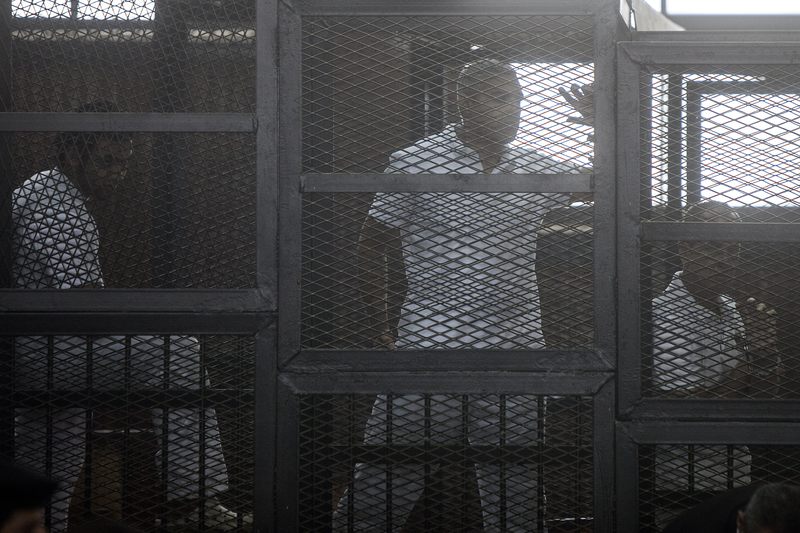 Egypt elected a new president this week—former military chief Abdul Fattah el-Sisi won with by a margin of 92 percent. He faced virtually no opposition in a nation where the Arab Spring suddenly seems like a distant memory.
The lack of opposition suggests that the political openness of 2010 has gone away, either because of a new military crackdown or because of a deep weariness of instability, the vanished tourism dollars, the struggling economy, and a government unable to govern.
One sign of a return to the days of Hosni Mubarak and military rule is the trial of three journalists accused of aiding a terrorist organization—they claim they were simply trying to get the Muslim Brotherhood's perspective on the Egyptian situation. The Brotherhood is now banned, but a year ago the party was one of the elected majorities in Egypt.
Over the weekend in Cairo, Egyptian prosecutors will make their closing remarks in cases against Peter Greste, Baher Mohamed, and Mohamed Fahmy.
The three men—all Al Jazeera journalists—have been detained by the Egyptian government since December. After the defense responds, a verdict on the trial could be announced as soon as early next week.
Al Jazeera English Senior Correspondent Sue Turton is one of the accused journalists in this case. She had already left Egypt when charges against her were announced, so she is on trail in absentia. She weighs in on the case, and the fate of her colleagues.