The Harsh Winter Has Unexpected Effects on NYC Environment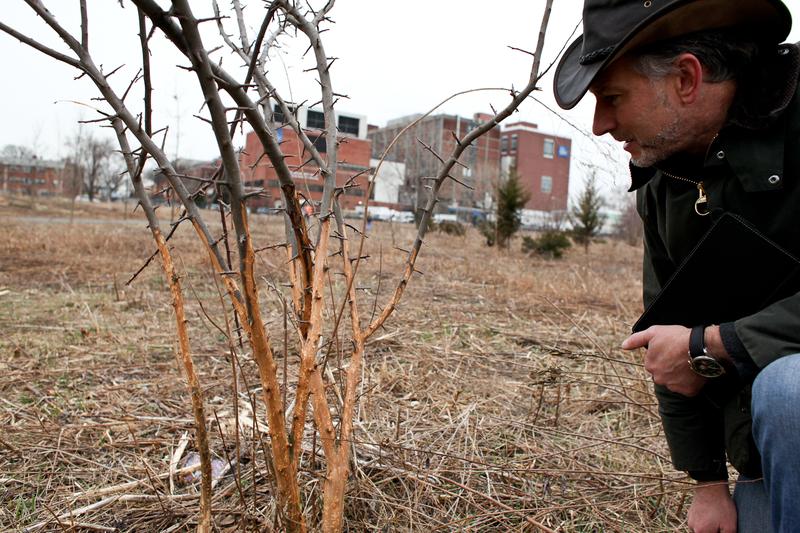 One of the coldest New York winters in years had an unexpected outcome: tree-eating rats.
Animals are drawn to the bark of trees because they're loaded with carbohydrates. But when rats eat a ring around a tree, as they've done in Kissena Corridor Park in Flushing, Queens, it can be devastating. Once a tree is girded like that, it typically dies. The Parks Departments said it hasn't seen rats eating trees like this before and plans to monitor the park closely.
"With the deep snow and the cold winter, probably they didn't have access to the normal food supply and it was a lot colder this winter," said Rich Hallett, a research ecologist with the U.S. Forest Service. "So they went after the trees."
Rich Hallett with the U.S. Forest Service examining trees damaged by rats in Kissena Corridor Park, Queens in April 2014. (Stephen Nessen/WNYC)
But dying trees aren't the only sign that the past winter was especially bad.
Another is the effect on the mosquito population — at least the non-native kind, like the Asian Tiger Mosquito, which spreads West Nile Virus.
Dominick Ninivaggi, the head of the mosquito control program in Suffolk County, said the population was hit hard this winter, because they're used to warmer climates.
"If it takes a long time for it to warm up in the spring, that holds back virus activity that's also usually good, because the later we see the virus the fewer cases we see," he said.
That doesn't mean that you won't be bitten — native mosquitoes have no problem waiting out cold winters.
And the brutal cold gave New York another gift: sightings of the Red-necked Grebe.
The Grebe, an aquatic bird with pale cheeks and a black cap, is often mistaken for a duck. During breeding season, its plumage turns red, which is how it gets its name.
For birders, it's a rarity. The Red-necked Grebe hasn't been seen in the city since 1987, according to the Cornell Lab of Ornithology. But the harsh weather in the Great Lakes has sent it in search of the relatively warm, open waters near New York City.
This winter, there were about 10 Grebes spotted in Manhattan and 20 to 35 in New York Harbor on the Brooklyn side. Andrew Farnsworth, a research associate at the Cornell Lab of Ornithology, said that's highly unusual. Yet the boon to bird watchers has a cost. Farnsworth said many more Grebes didn't make it this far south and died on the Great Lakes.
Winter and its unusual after effects is now behind us, but the Farmer's Almanac is calling for a rough summer, with hot temperatures and heavy rainfall.
We'll see how the rats like that.
A Red-Necked Grebe. (T.O.Birder/Flickr)