With Travel Window Open, a CUNY Student Makes His Return to New York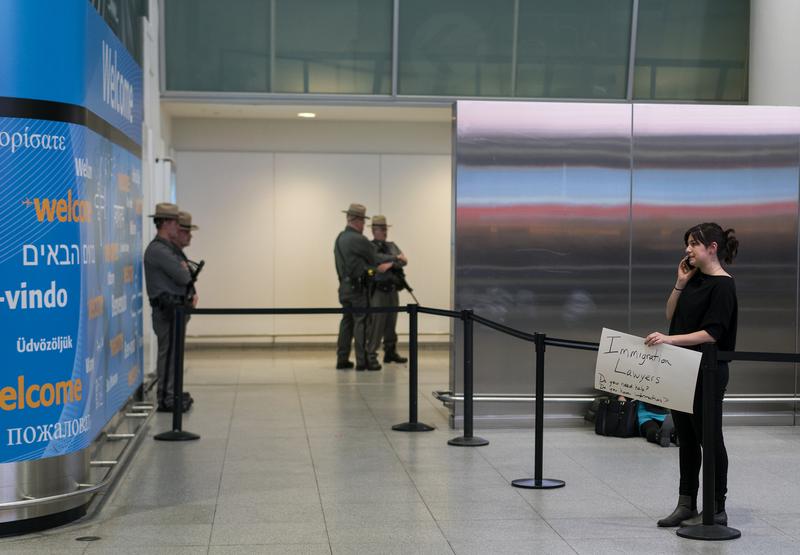 After a federal judge halted the enforcement of President Trump's executive order on immigration on Friday, airlines resumed boarding passengers from the seven countries initially barred from entry to the United States.
One of the travelers who arrived at John F. Kennedy International Airport this weekend was an undergraduate student, a Yemeni citizen, enrolled at the City University of New York. The student asked to remain anonymous.
CUNY's Citizenship Now program, which provides immigration legal services, has worked to help get international students affected by the order back into the country and to answer their questions. Isabel Bucaram, a staff attorney with Citizenship Now, went to the airport to greet the arriving student on Sunday, and WNYC tagged along.
Bucaram has served as a point person for a hotline that CUNY set up just after President Trump signed the executive order on immigration. All week, she received calls and texts with questions about the immigration order itself. Bucaram said students have also called with logistical questions about school.
"How do I keep up with my classes? What's going to happen with the tuition? Should I drop my classes, should I not?" said Bucaram.
On Sunday afternoon, Bucaram tucked the phone specifically issued for the hotline into a zippered pocket of her coat. She held a sign with the student's name, and waited for his flight from Doha. Just over an hour after the plane landed, he emerged with a suitcase in tow.
CUNY had four students unable to enter the U.S. because of the travel ban for seven majority Muslim countries. Now two students have returned; two more are still working to get back to New York. 
Click the audio player to hear the full story.