Tackling Trash on the Tracks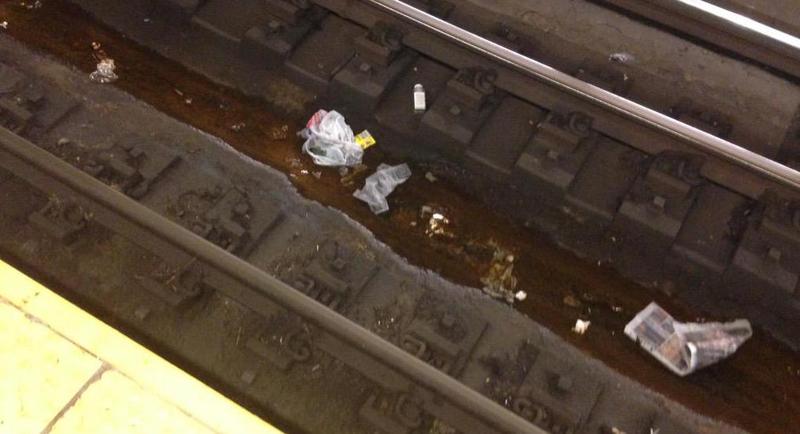 "May I have your attention please," echoes the announcement. "One-thousand, four-hundred forty-three tons of trash were removed from our subway's tracks in 2014."

That's a lot of trash.

The MTA's goal is to clean the tracks in underground stations every three weeks with cleaning crews. But a city comptroller's report found that most stations did not meet that goal over the 12 months ending in June 2014. Some stations got cleaned just once.

Besides cleaning crews, there are also two vacuum trains that are responsible for track cleaning. These vacuum trains, or VakTraks, are composed of two propulsion cars, two filter cars and one vacuum car. They move through the tracks between 11 p.m. and 5 a.m, cleaning one third of a track bed at a time. The comptroller's report found they don't work that well. If you look at photos of the tracks before and after a visit from a vacuum train ... it's hard to tell the difference.

Students at Baruch College Campus High School have prototyped a solution, a new subway vacuum that would attach to the front of a work train. They've been getting good results with a quarter-scale model. "Ours is gonna be one car...and it has a vacuum hose coming out of it," said Wendy Ni, one of the 12 new graduates working on the project. "It's semiautomatic because of light sensors, ultrasonic sensors. And also you will see hydraulic cylinders that will assist us when we are dumping the trash out from the vacuum." 

The city is trying to buy three new vacuum trains for $23 million. The students estimate their vacuum would cost under $1 million. And they're actually talking with the comptroller and the MTA about their idea.

Track cleanings data is from the New York City Comptroller's Office, used in this audit released on May 14, 2015.