Transportation in Civil Defense
Tuesday, April 10, 1951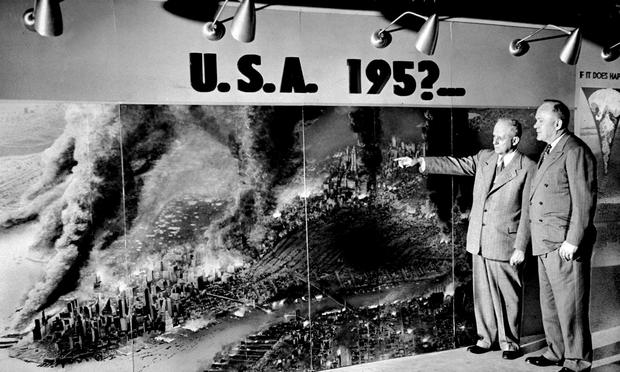 (Photo by Walter Kelleher/NY Daily News Archive via Getty Images)
The sounds of a city and a nation are captured through nearly a century of transformations, tribulations, and triumphs.

More
This episode is from the WNYC archives. It may contain language which is no longer politically or socially appropriate.
Arthur W. Wallander, city director of civil defense, and Col. Sidney H. Bingham, chairman of the board of transportation of the City of New York.
The period immediately after an attack is the hardest to plan for, due to panic and disorganization. They are trying to meet those needs they can predict by creating an operations manual. Medical emergency services have the toughest job, will mobilize up to 400 teams if there is an attack. Emergency departments, including police and fire departments, are sharing their preparations.
Arrangements for providing gasoline to vehicles will not be made by them; this should be taken care of by those departments supplying the vehicles. Oil companies will provide tank trunks in the fields, will pool equipment. Provisions for emergency repairs.
Ships, boats, and railroads will be used.
Car owners should not park on streets designated on primary and secondary routes.

Audio courtesy of the NYC Municipal Archives WNYC Collection
WNYC archives id: 71589
Municipal archives id: LT1815
More in: