The Takeaway
Transgender Teen Fights to Change School Bathroom Policy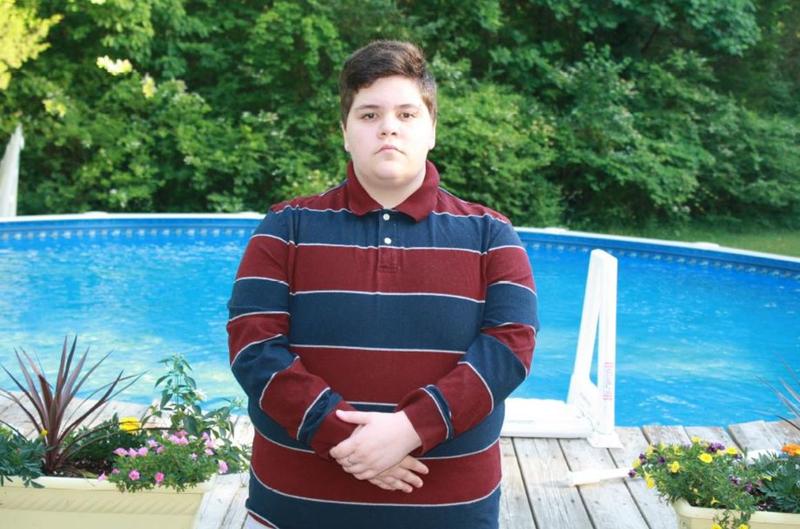 Click on the audio player above to hear this story.
This week, a federal judge in Virginia heard the case of Gavin Grimm, a 16-year-old student from Gloucester County, Virginia.
Gavin is transgender. His family decided to sue the school after the school board prohibited Gavin from using the boys' restrooms at Gloucester High School. On Monday, lawyers from the American Civil Liberties Union and the ACLU of Virginia argued in federal court for an injunction that would permit Gavin to use the male restroom facilities at his school during the pending legal proceedings.
Last November, Gavin attended a contentious board meeting, at which his gender identity and restroom access were discussed. A number of parents stood before the community and demanded that the board bar Gavin from the boys' bathroom.
"You're opening up the door, if you allow this to happen, for other things to go wrong," one parent said. "A young man can come up and say, 'I'm a girl. I need to use the ladies' room now.' And they'd be lying through their teeth."
Another told the crowd, "My son has boy parts. He does not want to be in the bathroom with people with girls parts."
Finally, Gavin himself stood up. As he explained, "I cannot use the women's room because, quite frankly, I'm not a girl."
He continued: "I understand that it might be hard for some of you to look past biology and XY or XX, but we do know scientifically that this is not a choice. All I want to do is be a normal child and use the restroom in peace. And I have no problem from students to do that, only from adults."
Public restrooms have long been a contested place in American life. The Civil Rights Act finally outlawed racial segregation in public places—such as restrooms—in 1964, and now transgender people are jumping into the fight over equal access.
For Eli Erlick, a 20-year-old transgender woman and a rising junior at Pitzer College, Gavin's story is all too familiar.
"I came out as queer and trans when I was 8-years-old in the third grade," says Erlick. "Like Gavin, I just wanted my identity to be recognized and respected. But my rural northern California community completely rejected it. They harassed, assaulted, and isolated me for the next six years. I was not able to use the restroom for that whole period."
During that time, Erlick says she would pretend to be sick in order to go home and use the bathroom. If she went into either restroom she would be called into the offices of school administrators.
"If I used the men's restroom, I would face potential assault and criticism from staff," she says. "If I used the women's restroom, I could face suspension and harassment from the other students."
Though she came out as trans in the third grade, she says it wasn't until she was 13-years-old that her parents accepted her gender identity. With her parents on board, Erlick helped craft California's legislation to prohibit discrimination against transgender students. She is now the founder of the youth-led organization Trans Student Educational Resources.
"I realized when I was 16 that I also needed to help make this change around the country," she says.
Jennifer Levi works to protect the rights of transgender people like Gavin and Eli. She's the director of GLAD's Transgender Rights Project and a professor at Western New England University.
"The reality is that transgender people live throughout the country, and transgender young people exist everywhere," Levi says. "Even communities that don't know that they're grappling with this, they are grappling with it or will have to grapple with it. This is an issue of non-discrimination and inclusion, and we'll see these views change over time."
Some argue that schools should accommodate transgender students with the option to use unisex bathrooms. But Levi says that's not a viable solution.
"A transgender girl is a girl, and a transgender boy is a boy, and that student has to be treated like every other student in the school," she says. "The reality is that if you make a student use an isolated, separate restroom, you mark them with a stamp of inferiority and you send the signal to other students that it's ok to treat that young person differently from the rest of the students in the school. Forcing someone to use a separate restroom is not a solution."
Schools should work to accept students for who they are, Levi says, adding that it presents the best outcomes for pupils, educational institutions, and communities in the long term. And it's something the law is beginning to acknowledge.
"We're seeing is courts and legislatures recognizing that we have to extend full protections to transgender people," Levi says. "The restroom has really been a focal point of concern in lots of civil rights movements—we've seen it in gay and lesbian civil rights work, we've seen it in racial justice movements, and we've certainly seen it as focus of discussion around inclusion of women in the workplace. But we've seen spaces change over time."