SchoolBook
For Some Students, Just Showing Up = Success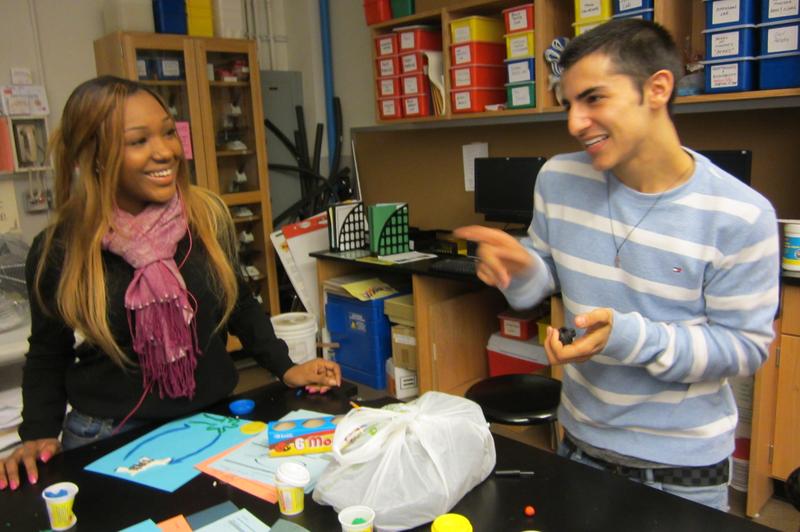 As the principal of a transfer school, Gloria Rosario knows her 16-21-year-old students have all tried traditional high school once before. But don't ever tell her West Brooklyn Community High School is their "last chance."
"I hate last chance," she said in a recent interview, adding she doesn't even like "second chance." In Rosario's view, there are no limits on chances. Especially not for a teenager.
"If you think about your own life, how many times did you have to re-do something or re-fix a relationship, or try a different career?"
Rosario started West Brooklyn Community High School in 2006. Its approximately 216 students come from Sunset Park and surrounding neighborhoods, with a diverse population that includes many first-generation children of immigrants.
Advocate counselor Cristian Zapata (right) greeting students at West Brooklyn Community High School (Beth Fertig/WNYC)
For many, attendance has been a challenge. Nationally, it is a huge factor in causing students to fall behind or drop out of high school. Hence the seven counselors outside West Brooklyn each morning, applauding the students, encouraging them to come inside while keeping track of each one on their iPads. 
"It's an accomplishment for them to get here," said counselor Imee Hernandez.
Michael Richman,19, showed up recently after a few absences he blamed on his job. In addition to support from the school, he credited his grandmother for his return. 
"She was like, 'school's important and this job's temporary it's not even a lot of money,'" he said. "She really got to me."
Attendance at West Brooklyn is good for a transfer school – about 75 percent on average last year. A recent study found even students who are chronically absent, missing at least 20 days of school, can see their academics improve if they come back to school. The school is aiming for closer 78 percent attendance this year.
Its graduation rate was 65 percent in 2012, for students who took a total of six years, but it fell to 45 percent this year. Rosario said it fluctuates based on when her students arrive and how many credits they have.
West Brooklyn provides students with several academic supports. Its classes are small, capped at 25 pupils each. The school enables its students to make up for lost time by offering a trimester cycle so that kids can earn up to 18 credits instead of the usual 12.
But Rosario said the emotional supports are equally important for this population. This is why the school was founded in partnership with the social welfare agency Good Shepherd Services which, among other things, pays for the seven advocate counselors, or AC's.
Gloria Rosario, founder and principal of West Brooklyn Community High School (Beth Fertig/WNYC)
"Some kids come to us failing one Regents five times, six times, seven times so they know this is my struggle so you need to help me," she explained, adding that the school deliberately seeks out students with the greatest needs.
"The trickier conversations lie with students who have competing priorities," she added. "So how can you focus on your academic work if you don't have a stable place to sleep at night? Or if you have mental health issues, or if you have substance abuse issues?"
This report is part of American Graduate, a public media initiative supported by the Corporation for Public Broadcasting.