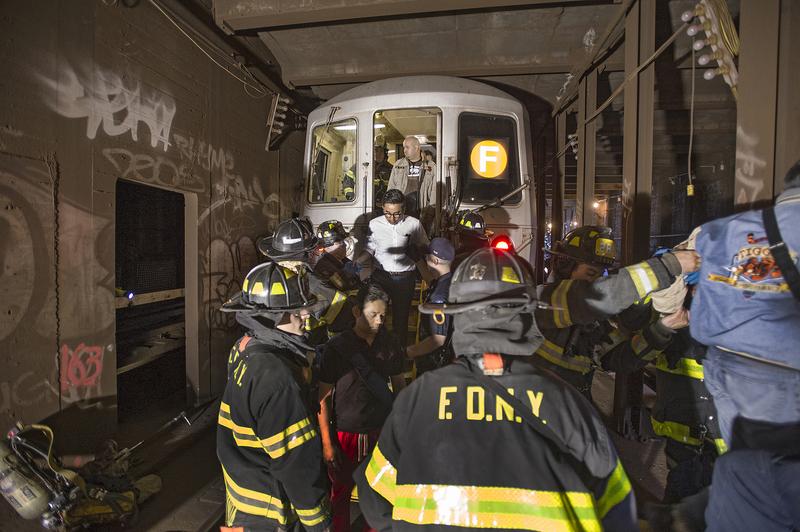 An F train derailed in Queens Friday morning, injuring 19 and disrupting several subway lines.
The derailment happened around 10:30 a.m. in a tunnel near the 65th Street Station in Woodside. The MTA says the middle six cars of the train left the track. The wheels of the first and last cars remained on the track.
Dozens of firefighters and paramedics with stretchers converged on Broadway and 60th Street. There was no immediate word on the condition of the injured, although the conditions of four people has been deemed serious.
"We walked through the trains, they were very un-level, so they had to escort us," said 29-year-old Taryn Clarke, a passenger on the F train. "They had to hold the doors because without the power being on, the doors were very heavy. So they escorted us through the fifth or sixth car from the front. We climbed down the ladder, walked across the rails, climbed out the later and then came up through the street."
Clarke said when it derailed, she saw sparks fly —  and then the car lost power. "It was smoking really badly, and people couldn't breathe -- and that was the main thing. You didn't know how to get off the train, and we didn't know which end it was coming from."
Officials say there was no smoke. "There was a substantial cloud of dust, which people could associate with smoke," said FDNY commander James Leonard. "There was no fire. It was a cloud of dust, which panicked people."
Clarke said passengers were on the dark, dust-filled train for over an hour before being evacuated.
Because power was cut to the tunnel, hundreds of passengers on adjacent trains also had to be evacuated. A nearby E train was backed up to Queens Plaza, where passengers were discharged "without incident."
The MTA says all passengers were out of the subway tunnel by 12:45.
The derailment, which caused track damage, is affecting service on the E, F, M and R trains. The MTA advises customers to use the 7 and J train as alternatives, and the Long Island Rail Road is cross-honoring MetroCards. For the latest transit information, go to the MTA's website.
Previously scheduled weekend work on the 7 and J lines has been cancelled to accommodate customers using those alternate routes.
The MTA says the cause of the derailment is under investigation and the agency will conduct "full inspections of signals, track and all other infrastructure in the area."
The last subway derailment occurred in May of 2013, when a 1 train derailed near 125th Street. No one was injured.