The Takeaway
Oakland Fire Reinvigorates Debate Over Building Safety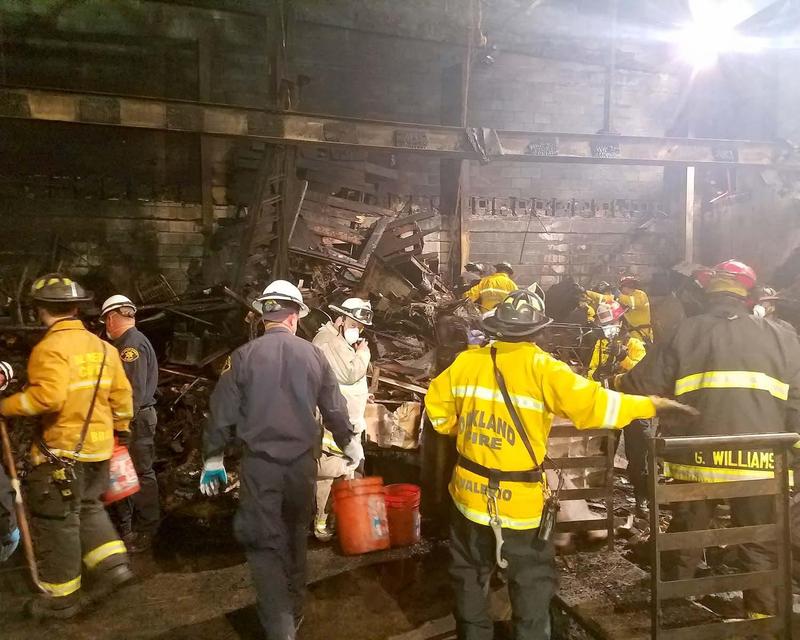 Click on the 'Listen' button above to hear this interview. 
An electronic music party at an Oakland warehouse ended in tragedy last Friday night after a fire spread through the building, which served as a live/work space for artists in the area. So far, fire department officials have found 36 bodies, making this Oakland's deadliest fire. Among the victims and the missing are musicians, artists, a teacher, and a high school student.
In the aftermath, authorities continue their search through the rubble and have launched a criminal investigation. Public officials want to crack down on enforcing fire inspections, but artists fear they will just be displaced by skyrocketing housing costs.
The building, known as the Ghost Ship, had several habitability complaints filed against it — including one for "illegal interior building structure." This is not the first time an Oakland fire has sparked controversy over housing safety.  In 2015, two people died in a fire that ripped through a live/work warehouse in West Oakland. The surviving tenants of that building and it's landlord have been battling over the reconstruction process.
Cy Musiker, a reporter from KQED has this dispatch from the reeling arts community in Oakland.