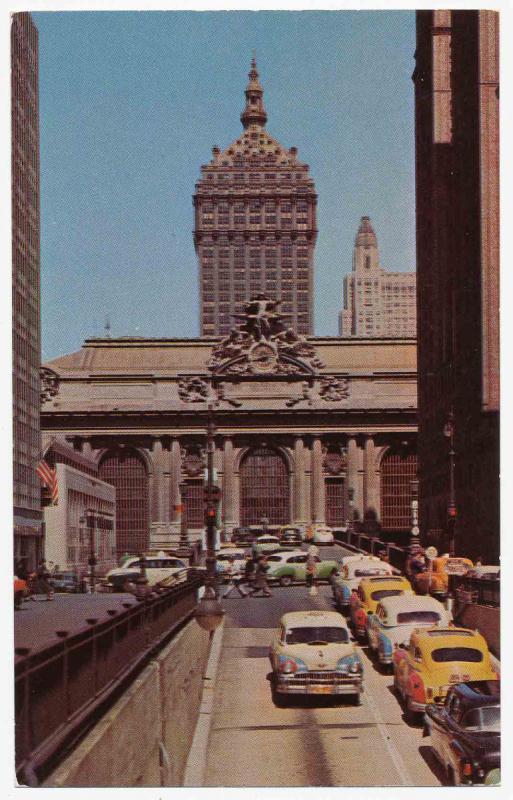 Summary
This episode is from the WNYC archives. It may contain language which is no longer politically or socially appropriate.
New York City Traffic Commissioner T.T. Wylie answers questions.

Gabe Pressman hosts with panelists: Andrew Meisels of City College; Fred Goldsweig of the Heights Campus of NYU; and Martin Birmingham of Washington Square College.

Questions: Can NYC's traffic problems be solved? How do we compare to other cities? Will there be more one-way streets?

There will always be traffic problems in NYC, but we can do things about it to make it less bad. There will never be a limit on car buying. Impact of one way streets. Rush hour congestion around Columbus Circle is inevitable. Comparison to Los Angeles's use of flashing traffic signals at nighttime. Development of the Traffic Control Plan, Parking Meter Program. 3rd Avenue El. Pavement marking programs. Headlight regulations.
Audio courtesy of the NYC Municipal Archives WNYC Collection
WNYC archives id: 71942
Municipal archives id: LT2840
Transcript
This is a machine-generated transcript. Text is unformatted and may contain errors.
Commissioner Wiley do you think New York's traffic problems can be solved are we in for more one way streets commission or how do our traffic problems compare with those of other cities for the answers to these and other questions let's go now to the Kappas press conference a transcribed program in which college editors interview persons in the news and now here is your host and moderator staff writer for The New York World Telegram and son Gabriel Pressman Good afternoon and welcome to another edition of campus press conference the questions you have just heard came from the college editors will interview today's guest on campus press conference Our guest is T.-T. Wiley New York City's commissioner of traffic Mr Wiley was born in Illinois was as it educated as a traffic specialist for seven years he worked for the Illinois highway department for ten years in the Detroit traffic department he arrived here four years ago in New York City's traffic department was born here to interview Mr Wiley today our Andrew my Zales of City College Fred gold wide of the heights campus of New York University and Martin Birmingham of Washington Square College and now the first question for Commissioner Wiley from Fred gold why Commissioner one of America's most famous architect Frank Lloyd Wright once said that New York's traffic problem is incurable practically speaking incurable and the only way you could cure it of by getting rid of New York first do you subscribe to that view that the problem is unsolvable Well I think it depends a little bit on what you mean by solvable or uncurable. We'll always have a traffic problem was don't kid ourselves about that but there are many things that can be done about it so doesn't quite the problem of this today we can make the streets do a lot better job than I've been doing in the past would mean a lot of other phases of the problem and make very substantial improvements but as long as people are going to buy more automobiles more trucks and so on we're always going to have traffic problems on our hands well which way are we going are we going to limit the number of automobiles in New York are we going to better the facilities in other words increase the streets the highway in the area and. Build our bridges and I don't think we're going to limit the automobiles after all this is a democracy in a person want to buy a car you has every right to do so it's our job to provide the facilities necessary to meet the needs of the community and to move more vehicles on the streets and I do think that these new one way streets and staggered lights are doing any good to help the traffic problem for no question about that let's think first and second Avenue as an example of what can be done with one way streets we made comparative studies before we changed them to one where I saw that we found that the average length of time to move from house in the street up one hundred twenty First Street or vice a versa was about twenty eight minutes after they were made on why it took about twenty minutes to make the same trip will emanate about eighty five percent of the stops and just as a curiosity when you eliminate stops in that numbers we save about one and a half million gallons of gasoline unnecessarily burned as your department looked into the possibility of say underground elevator highways by them or elevated streets rather rather than as we have it's not an easy traffic problem. Well the question of new highway facilities is not been won under our direct jurisdiction the new highway improvements are made through the borough president's office or jointly between the city county state and federal governments should leave the county that city state and federal governments participate in the arterial highway program under the general direction of Commissioner Moses says that construction coordinator. As a traffic using as a traffic expert do you advocate these underground or overhead highways I think we certainly need one in the line general line of Canal Street to join the Holland Tunnel was the Manhattan Williamsburg bridges because Canal Street traffic is a bottleneck to all the north and south movement in that section of Manhattan and there's an extremely heavy truck movement which is crossing the Hudson River and once you get right over in the Brooklyn so we need a new limited access Expressway and the center of the of Canal Street commissioner I understand you've worked in a number of other major cities outside of New York on the similar problems how do you think I know its problems compare with these when the value encountered in other cities not as well and like we have some Here is a little bit tougher and some are not quite as tough. The trucking problem I think is more acute in New York City than any place else in my experience the garment area being in the notorious example. I want to on the other hand there are some cities where Cham more vehicles more traffic than we actually have here well you know the amount of traffic we have in Manhattan is not quite as much as most people think that you're aware of it because of standing still we had it moving you wouldn't realize that we had got it but it's not a problem I'm not going to damage. Our last ride the problem is to get our traffic moving rather than standing still but take the horse hard and Boulevard in Queens which carries about twenty seven hundred vehicles and the people our traffic is moving on horse are in Boulevard the most part on the other hand some are across the street here only carrying a thousand or twelve hundred vehicles in one hour and they aren't moving at all why is that why doesn't the what stops traffic from moving Well the primary problem in Manhattan as the traffic signal system with those long red periods. That's the reason why we've been moving to a one way operation on the first and second the seven late night and tenth avenues make the avenues move so much better that we can shorten the green signal time for the north and south movement which means that we shorten the Red time which keeps traffic from moving east and west I understand from the papers bottlenecks are still developing around Columbus Circle especially at that five P.M. just about this time have you found a solution for that. Well we had a real problem of congestion there on Monday evening the first business day on which there was an eight there was a one line and we will always have some rush hour congestion the Columbus Circle simply because there's too much traffic to be moved we've taken certain steps which make it a lot less acute than it was the first night but we've never pretended that the seventh and eighth Avenue was going to solve all with congestion problems we expect to have a little bit left and we did have some left but we do know it was that made a very major gain commissioner before you said that it was that you believe it was inconsistent with democracy to forbid people to buy cars and to operate them and would you say that it's inconsistent also to restrict traffic say on certain nights of the week to forbid say the out of towners from coming into New York and from the theater district. Encourage the use of subways instead would you further something like that well I don't think it's undemocratic to establish rules and regulations which take into account the needs of the various And the general well known Honus of traffic when I am so I and I don't think we can tell Joe dogs you can't own a car because we don't have any place to put it but we can adopt regulations which does the job dogs car has to give way at certain times of day to Jim Smith's truck and vice versa that's a problem of praising the needs of the various compliments of traffic. Rationing our streets by means of regulation to meet those needs to the best advantage in Los Angeles they've got a system for moving profits faster than they have rather than the red lights in certain areas that have flashing red signals and also at late at night and places where you have green red signals during the day say about nine o'clock at night that change into a flashing red signal to move traffic a little faster What do you think about that certain areas of New York. Well we're doing some of that now it's one of the things that the department has undertaken particularly reference to signals that have been put in primarily for school crossing purposes and school crossings only we operate them as stop and go signals only during the periods when the youngsters are going to and from school and put them on flashing operation other times a day and I think that can be expanded to additional signals and we will do that as part of our overall traffic signal improvement program a flexible signal system on most of the major arteries as one of your basic future aims is that right Commissioner. Future and present we're taking steps now to modernize the signal systems on sorrow of our major arteries Queens Boulevard Fordham or old Flatbush Avenue in Flatbush extension the. People who have been driving those over the past several months of the scenes construction work going on on the probably of ground a little bit about the traffic congestion resulting from not know where to blame but the by means of that construction we'll be able to pull in interconnecting table so that we can interconnect the mechanisms that run the signals and by means of master control and change the signal time with each location to favor inbound traffic in the morning outbound on the evening and some other setting during different times of day adjust the timing to meet conditions as they vary from time from morning to evening and so on Commissioner can I growl a little now turned I've been driving only recently and probably that's why I'm more concerned with the problem and I don't know if my view is correct but it seems to me in the last five years I don't think the problem has been getting any less ameliorated that in other words is the problem is still there and it's getting tougher all the time there are more cars on the road and there are more jams but I encounter at least this view correct and it is not pessimistic to correct one. I don't know that's a pessimistic picture what do you yourself say we just started the drive become one of the new factors in this traffic problem which is leading us to increase year by year the traffic Jackson we have made shown that. The crossings over the East River bridges as I recall are increasing and volume from five to ten percent per year and I've been doing it ever since I came to town that we some of you people who could drive a car you want to call model a commission Yes I have a car and I live it and my wife does most of the drive and it's very seldom gets in the Manhattan. Do you advocate that for other people thing out of Manhattan so much as possible well I guess the opportunity to bring out a rather important point about traffic in Manhattan on our streets are overloaded we've got to make them do better but we're getting to the point where fi some means we have to make the streets serve more or what I call productive traffic in last what I call nonproductive traffic now in Manhattan I'd draw laid a line of distinction between those two types of traffic this why the person who drives the car to and from work in Manhattan is doing it merely is convenience and it contributes nothing to the business activity the city other than they got to work. Contrast that with a vehicle that is used for business professional shopping recreational purposes the person driving the car for that reason is contributing to the welfare of the business activity of humanity so all we need to do low saying is which encourage and make easier the productive use of the vehicle and to discourage the nonproductive commissioner and it seems to me from what you've been saying from what I as a motorist observed that there are just so many cars there's just so many streets and you can arrange the streets as well as you like and you can try to move the track with what you like with so I can arrange the streets you know if you like one of you can arrange them as far as going one way and so on but sooner or later it seems to me that you just got to you know have less cars and more streets which is going to be or is going to be neither I was just going to continue going this way for a number of years well I get somewhat and category of water so you know its own level when I gets too difficult to drive a car into an area for the purpose that you want to use it for and then you see some other means of transportation but then I thought I was out of line the man yet also smacks of Anarchy doesn't it I mean isn't that what a department of traffic is is that is is for it to see this such a thing doesn't happen if there is a good organization a system to stop it from happening well. The things that we are trying to do are to make it possible for more vehicles to use the street more effectively but certainly we can't tear down Manhattan just to build more straits and that's what you have to do when you reach the saturation point you can't get any more in with the bulk of this clear for so long how about a missed him Robert Moses is a suggestion that the Third Avenue well which is now being torn down he made into an elevator highways anything done on that line. Under the knowledge nation of Moses is made I don't read only because I don't recall it's additionally made by him I've heard it's made some time and then I believe it has been by him it's a have snuffed it anyway this is just unwise for me there's a jest as been made from time to time by sundry parties but. There are some real difficult problems involved there. First place I think the cost of converting the structure to a highway structure would be almost prohibitive for all the use that would you get out of it then you would have problems of providing access from actually being facilities which would be pretty difficult particularly in the areas where you would need them the most saw frankly I don't I don't think that that is too good a proposal although I would again frankly we have not been on the legislation to make a thorough analysis of the commissioner we always talk about overhead highways but has there ever been a suggestion of making under or underground highway system while there has been a proposal urban conflict in proposals relative to Across town Expressway in the general vicinity of thirty four straight. A proposal to go overhand a proposal to tunnel all the way across and I get you on the question of economics what kind of traffic. Use can be made of the structure if it's overhead Why can you do with it if it's on the ground and. How can your finances when you start talking about either elevator or underground structures or any new highway facility in Manhattan you're getting into awfully high cost Vigors and I