Thrillers, Race and Romance. The 10 Most Popular Books at the New York Public Library.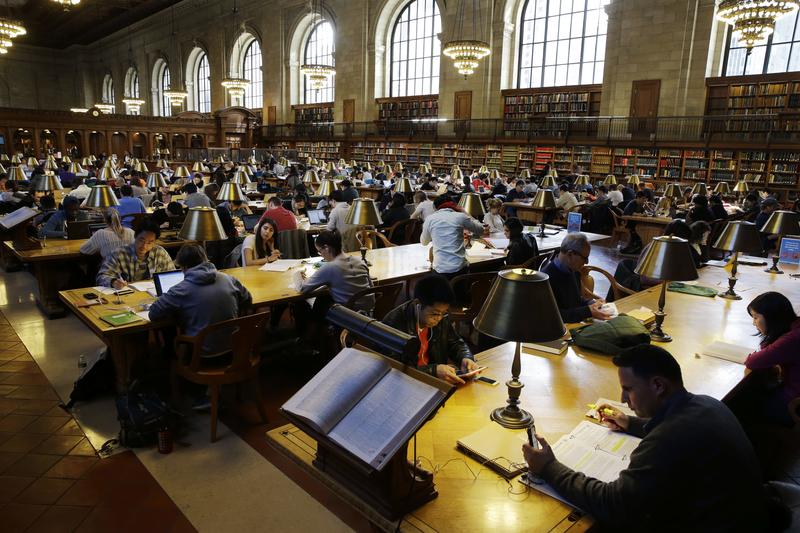 The New York Public Library is out with its list of the year's most checked-out books at branches in Manhattan, the Bronx and Staten Island — as well as their catalog of about 320,000 e-books. (Brooklyn and Queens have separate library systems.)
Top 10 Books from the library's 92 locations:
1) "The Girl on the Train" by Paula Hawkins.

2) "Between the World and Me" by Ta-nehisi Coates
Coates talks to Brian Lehrer about his memoir:
3) 'When Breath Becomes Air" by Paul Kalanithi
Kalantithi's widow talks to Leonard Lopate about his life and work:
4) "Go Set a Watchman" by Harper Lee

5) "Why Not Me?" by Mindy Kaling

6) "Modern Romance" by Aziz Ansari and Eric Klinenberg
Ansari talks to Studio 360's Kurt Andersen back in 2010:
7) "To Kill a Mockingbird" by Harper Lee
Listen to Lee, who died this year, talking about her writing back in 1964.
8) "The Goldfinch" by Donna Tartt

9) "All the Light We Cannot See" by Anthony Doerr

10) "The Nightingale" by Kristin Hannah
Find the most popular book at your branch: