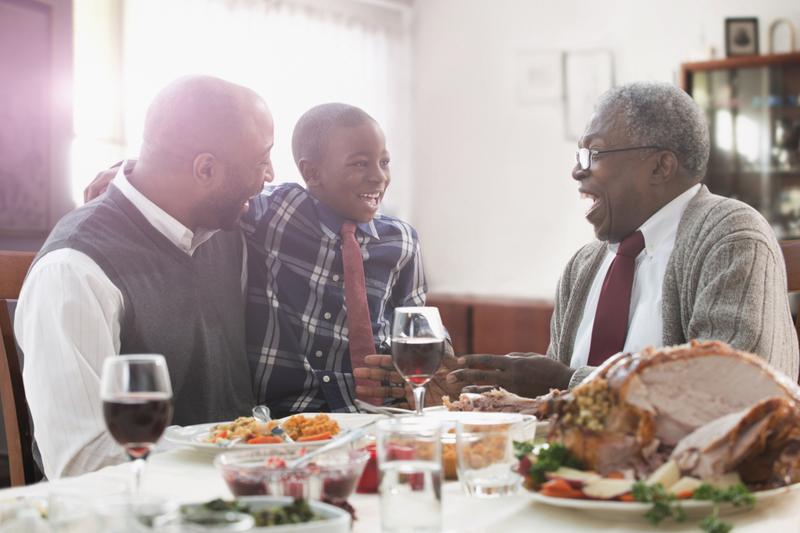 Happy Thanksgiving from The Takeaway! Whether you're travelling, prepping a meal, or spending the day with family and friends, we're here to say thank you and wish you a great holiday.
Today's special Thanksgiving episode features a litany of great stories that caused you to reach out to us—we've compiled a lineup of some of the best Takeaway moments heard on the airwaves this year.
The Thanksgiving meal is the hardest home cooked dinner of them all. But a team of sociologists at North Carolina State University found that for low- and middle-income families in America, making a home-cooked meal is often easier said than done. It's a conversation we had earlier this year with Sarah Bowen, a researcher on the study.
Astrophysicist Neil deGrasse Tyson is like an exploding star—big, brash, funny, and full of energy, he's an evangelist for science in the tradition of Carl Sagan. But how did he get this way? We put that question to his charming unstoppable mom, Toni Tyson, earlier this year. 
Actor Jason Schwartzman stopped by our studios in New York City in October. He weighed in on his long career, discussed what it is like to work with director Wes Anderson, and broke out into an improvised musical dream sequence while he was talking with Movie Date Podcast co-host Kristen Meinzer.
It's apple season in the United States, but did you know there were once 17,000 different varieties grown in North America? Dan Bussey is the author of "The Illustrated History of Apples in North America." He recently completed an encyclopedia of all these apples, and sadly found that most of them are now gone.
Red lipstick is back en vogue. According to Madeleine Marsh, author of "Compacts and Cosmetics," red lipstick is a symbol of female strength. She explains the fascinating history of red lipstick—from the suffragettes to Coco Chanel—and why the color has a rich history steeped in identity, self-expression, and liberation. 
We end our Thanksgiving special with a little something to listen to—an album all about family, love, and some serious dedication. Soundcheck's John Schaefer reviews "The Black Album," a record that re-imagines The Beatles for a new generation, providing a compilation of songs from the solo careers of John, Paul, George, and Ringo.