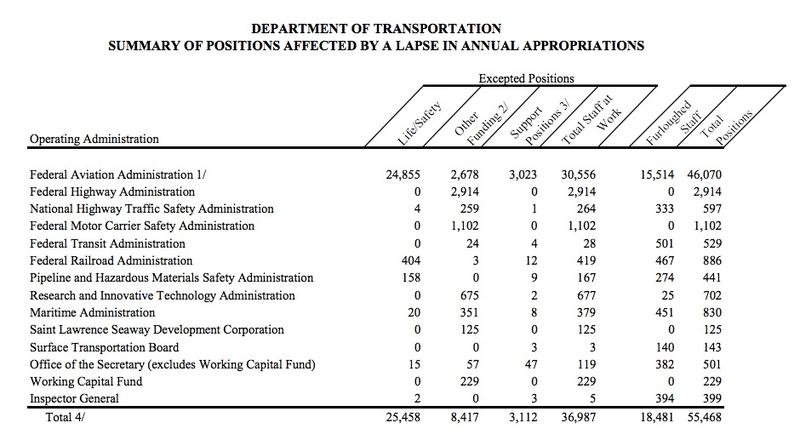 TOP STORIES ON TN: 
Lots of NY stories today. We'll have some original national reporting soon.
Oops. ConEd power company says its mistake probably caused the power outage that has halved the capacity of Metro-North, the largest commuter railroad in America. (Link)
So Metro-North scrambled. We sent a reporter/photographer to find out if ad-hoc solutions worked. (Link)
NYPD confirms it will investigate non-fatal crashes with life-threatening injuries. That's more than before. (Link)
PATH commuter train fares increase today. (Link)
A transit advocacy group surveyed New Yorkers and finds they ride transit a lot. (Link)
LINKS FROM AROUND THE WEB:
The federal government is shut down, but not Airlines, Amtrak or *most* local transit agencies.
The federal Department of Transportation will furlough 18,481 workers out of 55,468. (See chart above)
What stays open: Air Traffic Control; safety inspections; assistance to Dept. of Defense, certification of airmen; airport development grants and "airport planning" along with a few other safety related services. For full list of what is NOT operating at DOT, scroll to the bottom of this post. (Full Report)
In Washington D.C. the Circulator buses will stop and so will parking enforcement. That's federal money apparently. (WashPo)
Meanwhile, an FAA panel formally backs easing some restrictions on electronic devices, but would still keep restrictions on texting and email. (NYT)

The latest injury count on the Chicago head-on subway train crash is four dozen. (AP via WBEZ)
European car sales are dropping because of aging populations and shifting habits. (WSJ)
Houston Metro is "reimagining" transit service and asking riders to weigh in. (KUHF)
Amtrak teams up with Google to make a national train locator map. See image below. (Amtrak)
New subway lines in NYC won't have sidewalk ventilation. So the NYTimes pens a pean to subway grates with cursory Marilyn Monroe pics. (Link)
Toyota says it doesn't see a market opportunity for an all-electric car. Just hybrids and hydrogen cars. (Verge)
Some car carnage is taking up the NYC tabloid space not devoted to the gov't shutdown. A pack of motorcyclists chased a Range Rover for four urban miles then beat the driver over a hit-and-run. Most of it on film. (NYDailyNews)
School was cancelled in Indiana after thieves stole school bus batteries (
And who knew, the head of NYC's subway system gets top secret security clearance. (Twitter)
Shutdown cont'd
Summary of Suspended Activities at Federal DOT
Development of new air traffic control specialists not certified to work a position; 
Aviation rulemaking; 
Facility security inspections, evaluations, audits and inspections; 
Routine personnel security background investigations; 
Development, operational testing, and evaluation of NextGen technologies; 
Development of NextGen safety standards; 
Air traffic performance analysis; 
Capital planning for FAA facilities and equipment; 
Investment planning and financial analysis; 
Dispute resolution; 
Audit and evaluation; 
Financial operations, controls, reporting and accountability; 
Most budgeting functions (except those necessary to provide necessary services to offices funded with multi-year 
appropriations and contract authority); 
Employee drug testing program; 
Law enforcement assistance support 
Most administrative support functions not required for support of life and safety "excepted" positions; and
Congressional liaison services.