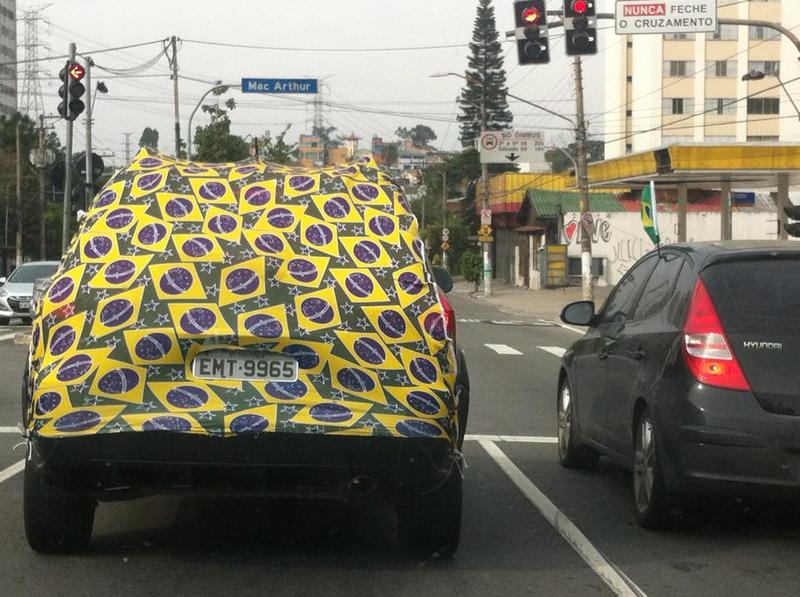 TOP STORIES ON TN:
Meeting Between MTA and LIRR Workers Yields Nothing but More Bad Feelings, Finger Pointing (link)
MTA Bus Service Changes Sunday (link)
MONDAY LINKS:
The stadiums Brazil built for the World Cup will probably prove to be giant money-suckers that don't benefit the locals. "Neither FIFA nor Brazil learned from the past. So many cities regret playing host to huge sporting events." (NYT)
But that didn't stop a Rio de Janiero subway car full of soccer fans from celebrating Brazil's win over Chile:
A main street in Detroit will close for four months so the city's streetcar line can be constructed. (Freep)
An emergency evacuation slide inflated mid-flight on a United plane. "Mike Schroeder says he was flying from Chicago to Orange County, California, late Sunday when he heard a hiss and pop. He says he turned around and saw the plane's emergency evacuation slide inflating inside the plane." An emergency landing followed. (AP)
Like most other bike share systems, D.C. is struggling to recruit minorities and low-income residents. (WaPo)
General Motors will release details about its ignition switch compensation fund this morning. (Freep)
CicLAvia — L.A.'s car-free streets initiative — is expanding. (KPCC)
Boston transit riders: your fares go up tomorrow. (WBUR)
Things that will be discussed at New York's City Council hearing today: a bill that would make it easier for drivers who feel beleaguered by alternate side regulations to park on city streets. (NYT) And our own Kat Aaron will be there, live tweeting. Follow the fun here.
In less than a month, Long Island Rail Road workers could strike. Tune into the Brian Lehrer Show this morning to get the latest on the negotiations. (WNYC)
AC Transit — the East Bay's largest bus system — is eliminating transfers. (SF Gate)
One enterprising Brooklyn bus rider made a countdown clock for his living room. Here's how. (Medium; h/t @SongHia)
Are some Uber drivers avoiding background checks? Sounds like the screening process has some vulnerabilities: "Signing up online sounds lax enough, but it's the account-swapping that's truly worrying here." (ValleyWag)
Opinion: if Uber drivers want better treatment, they need to organize. "Uber's disruption of taxi industry is welcome but won't succeed without treating drivers more fairly." (Al Jazeera)
An NPR photographer went to Cuba...and despite being told not to come back with car pictures, he came back with...car pictures. "Here's the thing: Cuba's cars are impossible to ignore. It's like seeing a celebrity and trying not to stare." (NPR)
Watch as workers repaint a small Air Serbia jet.