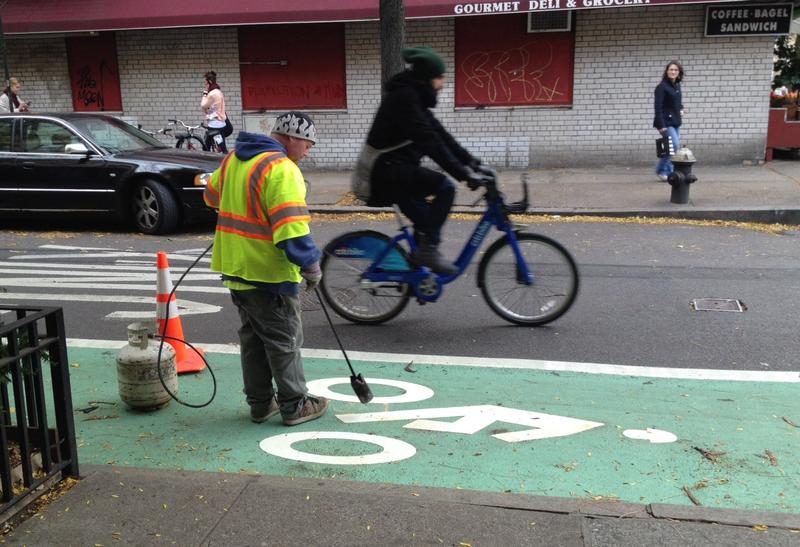 TOP STORIES ON TN:
Not Even Zebras Can Stop Cars From U-Turning Through D.C. Bike Lane (link)
Citi Bike: 5 Million Rides, 10 Million Miles in First Five Months (link)
TUESDAY LINKS:
NYT opinion: "Is it OK to kill cyclists?" In some cities, it seems like it is. "We do not know of a single case of a cyclist fatality in which the driver was prosecuted, except for D.U.I. or hit-and-run," said one advocate.
Maryland's Montgomery County is envisioning a comprehensive, 98-mile bus rapid transit network -- but a lot of route decisions have yet to be made, funding must be found, and officials must overcome a growing sense of unease that the county doesn't have the experience to pull it off. (WaPo)
Five percent of Chicago's reduced transit fare cards get used after the senior citizen who owned them has died. (Chicago Tribune)
New York Senator Charles Schumer praises NJ Governor Chris Christie, then manages to work the latter's decision to cancel the ARC tunnel into the conversation. "One of the worst decisions that any governmental leader has made in the 20th century, or the 21st century—both, in the last 100 years—is to get rid of the ARC," Schumer said. (Capital NY)
Three NYC pedestrians were killed on NYC sidewalks by cars on Monday. (Streetsblog)
Will Boston's new mayor-elect make good on his campaign promise of late-night T service? (Globe)
Dallas's biggest taxi company may have been violating insurance regulations...for years. (Dallas Morning News)
Check out the hatches New York's MTA will use to prevent water from entering the subway tunnels via ventilation gates. The best part: the president of the manufacturer is a man named Lou Waters. (WSJ)
Jersey City is filing a $400 million lawsuit against the Port Authority of New York and New Jersey over "outdated and unfair" tax agreements. (Jersey Journal)
Investors are starting to worry about Tesla's car fires. (Marketplace)
Kansas City is expanding its bike share program beyond downtown. (KC Business Journal)
Holiday gift idea for your favorite winter bicyclist: a snow bike. But: be prepared to part with over $8,000. (Forbes)