TN MOVING STORIES: Transpo News Links from Around the Web
Tuesday, November 05, 2013 - 07:40 AM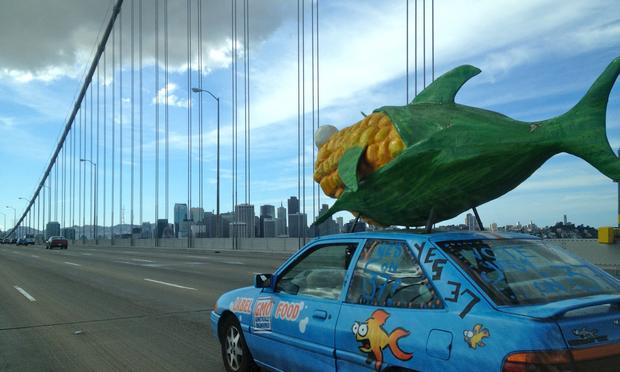 (Lynn Friedman/flickr)
TOP STORIES ON TN:
The Reason NYC Cops Are More Likely to Ticket for Parking than Speeding (link)
US Airways Fined $1.2 Million for How it Treated Passengers in Wheelchairs (link)
TUESDAY LINKS:
Happy Election Day!
In New York City, voters will decide the city's next mayor, and polls indicate the winner won't be the city's former transit chief.
People of Virginia: the state's transportation department is holding a public comment section on its six-year plan today. (AP via WaPo)
Nationwide, there are 31 ballot measures in six different states. Check out the photo illustrating one of them -- a pair of cars urging people to vote on GMO food labeling -- in this NPR story.
Following a spate of recent pedestrian deaths, Las Vegas residents rallied for street safety -- and to spur their city council members to action. (Las Vegas Journal Review)
Detroit's bus system is barely stumbling along, which has dire implications for city residents. "I've lost three jobs because of the bus," said Takara Reaves. "There would be a bus that don't show up, or they would be late, or I'd be on a bus that broke down. And your employer only want to hear 'the bus broke down, or the bus was late, or the bus didn't come' so many times, before they think you just don't want to come to work. And it's not like that." (Marketplace)
European airlines are rethinking electronic device rules following a recent FAA decision. (Guardian)
A woman gave birth to a 9 lb 15 oz baby just outside the Holland Tunnel. (NY1)
Hamburg is planning to make cars superfluous in the next 15-20 years. (Fast CoExist)
After five months and five million trips, there have been no fatalities in NYC's bike share program. (NYT)
San Francisco's bike share program is expanding. (ABC)
The top cop at Philadelphia's transit system talks policing -- and why he uses the hash tag #cheesesandwich on his well-plowed Twitter account. (Philadelphia Inquirer)
Kate Hinds covers transportation for WNYC News.