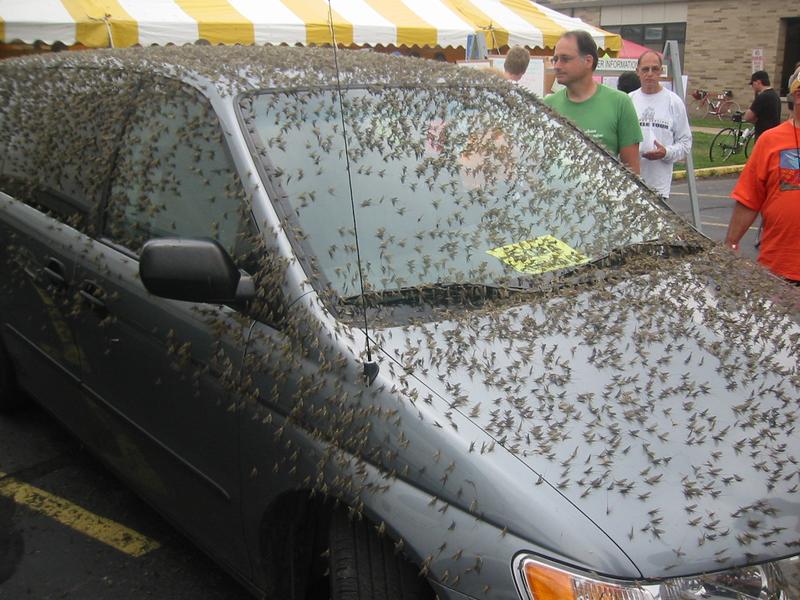 ON TN:
All U.S. Flights to Tel Aviv Canceled Over Missile Fear (link)
By Trolley, Train, Show Boat Or Surrey, These Musicals Will Move You (link)
The AP and the NY Daily News were fooled by a Twitter account when it came to the white flag on the Brooklyn Bridge (link)
 WEDNESDAY LINKS:
The Senate could vote on a bill to extend transportation funding today. (The Hill)
The Bay Area's transit agency may reconsider rules about lifetime passes on BART for board members and their families. (Contra Costa Times)
As the first bodies from Malaysia Airlines flight MH17 return to the Netherlands, the country is declaring its first official day of mourning since 1962. (NPR)
A bike lane backlash is stalling some projects in the L.A. area. (L.A. Times)
Bollards, benches and bus shelters: take a look at Britain's street furniture. (BBC)
Sarah Palin is blaming Sammy Hagar for her recent speeding ticket. (The Hill)
The Rockaway ferry is shutting down for good in the fall, despite efforts of advocates to get a permanent extension for the service. (DNA Info)
A leaked report written by an Australian government committee says the country has "a gambler's addition to roads" and describes road spending as "hideously inefficient." You've got to know when to hold them -- and know when to fold them, Australia. (Guardian)
Swarming mayflies are being blamed for a car crash in Wisconsin. Need details? "The road about 50 miles southeast of Minneapolis had become slick from the mayflies Sunday evening, causing at least one of the drivers involved in the crash to lose control of her vehicle. Visibility was limited at the time of the crash because to the massive cloud of mayflies in the air, police said." Head to USA Today for pictures you will never forget.
The new operator of Boston's commuter rail is going to be cracking down on ticket collection. (BostInno)
Former NYC Mayor Michael Bloomberg flew to Israel last night on El Al — the only airline still flying to Tel Aviv out of JFK — "to demonstrate that it is safe to fly in and out of Israel." (Capital NY)
Study: five countries are responsible for 20 percent of the world's traffic deaths. (WHO via NIH)
But...
@MikeBloomberg @TransportNation Those countries account for 42% of the world's population. So they're safer than the rest of the world?

— Yonah Freemark (@yfreemark) July 22, 2014